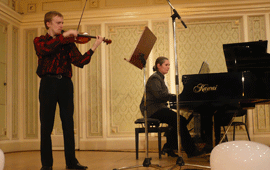 Tuesday Evening Season
Thursday, 4 March 2010 , ora 11.49

On Tuesday, March 2
nd
2010, the Small Hall of the Romanian Athenaeum hosted an instrumental recital held by
Biró László
(violin) and
Verona Maier
(piano). The programme included Béla Bartók's
Sonata for Solo Violin
, Sergei Prokofiev's
Sonata No.1 in F minor for Violin and Piano
and Maurice Ravel's
Tzigane
Rhapsody.
Violinist Biró László was born in Braşov in 1983. He graduated the 'Gh.Dima' Music Academy in Cluj-Napoca, professor Dorina Mangra's class, in 2006 and continued his studies with an MA degree at the same institution. He took part in virtuosity classes held by professors Sergiu Schwartz, Ulrike Titze, Gernot Winishhofer, Josef Schwab, Peter Gülke, Matthias Roiter, Holst Hegel, Takaschi Schimizu, Alexandru Gavrilovici and Florin Croitoru.
In 2008 he took part in the 'Enescu and the Music of the World' International Festival with the National Youth Orchestra conducted by maestro Cristian Mandeal. The young violinist Biró László has received many awards, such as the Special Award for interpretation at the International Competition in Mohács (Hungary), awards at the 'Romantic Miniature' Competition in Galaţi, the 'Young Talents' Competition in Oradea and the 'Remember Enescu' Contest in Sinaia. He received a scholarship to study with professor Holst Hegel in Germany.
He has been a violinist in the Symphonic Orchestra of the State Philharmonics of Oradea since 2006.
After she graduated the Bucharest University of Music in 1984, Verona Maier became professor at the Chamber Music Department.
In 2006, she was awarded the Doctor of Music degree by the Bucharest University of Music.
Her debut in concerts in 1970 led the way to a great number of concerts and recitals that she held on stages in Italy, Switzerland, France, Greece, Hungary, Germany, Slovakia, Austria, Spain, Portugal, Denmark, Poland, Sweden, England and the Czech Republic. She has also participated in many national and international festivals.
Together with Georgeta Stoleriu (soprano, lute, percussion), Anca Iarosevici (discant viola da gamba, alto, tenor) and Robert Dumitrescu (tenor viola da gamba, fidel, lute, percussion) she is part of the Old Studio Music chamber ensemble and plays the harpsichord and percussion instruments.
Piano player Verona Maier has made a number of recordings and has taken part in many radio and television shows. She has appeared on seven CDs in Romania and abroad. She has been called on by many directors to offer special consultancy for the music of several cinema and television movies: Califar's Mill (Şerban Marinescu, 1986), An Unforgettable Summer (Lucian Pintilie, 1994), The Idle Princes of the Old Court (Mircea Veroiu, 1996), Letters from the Friend (Mircea Veroiu, 1997).
In 2004 she was awarded the 'Cultural Merit' 1st class medal by the Romanian President.
The recital on the evening of March 2nd 2010 at the Small Hall of the Romanian Athenaeum was a very inspiring one. In spite of his apparent fragility, the young violinist Biró László proved to master an extraordinary power, an exceptional technique and a warm sound. He showed great concern for expression and phrasing and at the same time a sensibility rarely seen. The difficult works were a challenge for the talented musician. As usual, the virtuosity of piano player Verona Maier proved to be an essential element for the completion - with sensibility and delicacy - of the artistic performance.
Adriana Nitu
Translated by Cristina Caramida and ValentinaTache
MA Students, MTTLC, Bucharest University