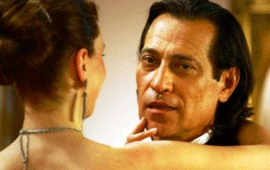 Amadeus - a new premiere
Friday, 5 March 2010 , ora 13.27

March 2nd 2010 - A new premiere : a series of shows from The Experimental Studio for Opera and Ballet "Ludovic Spiess", event taking place in the yellow foyer of The National Opera House in Bucharest.
Amadeus is a succesful mix between Wolfgang Amadeus Mozart's music, fragments taken from the namesake theatre play and the austrian writer's correspondence, staged by Peter Schaffer
This initiative staged by the young director Marcel Țop, also was proof that from five soloists of the Opera House in Bucharest, members of a choral group and of a piano quartette - conducted by Ciprian Teodorașcu, a melacholic and tragic story can be created, where you don't know for sure who is the victim? Mozart or Salieri? - characters that were interpreted by the actors Răzvan Oprea and Marius Bodochi.
A show about envy and mediocrity played at a maximum intensity, where the actor Marius Bodochi - who we also had the opportunity to admire as a singer - managed to transform - aparently quite easy - from a well-intended and serviceable Salieri into a revengeful and capable of murder one. If I have to sum up the Amadeus show into a few words, I would choose the following: expresivity, strength and professionalism.
Alexandra Cebuc
Translated by Tone Monica Cristina, Andreea Velicu
MA students, MTTLC, Bucharest University