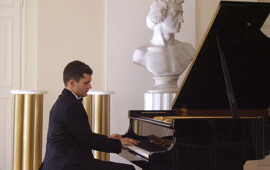 Music at the Brancovenesti Palaces - The Opening of the Second Season
Wednesday, 10 March 2010 , ora 10.45

All the clasical music lovers know that this year celebrates 200 years since the birth of Frédéric Chopin, occasion that generated several events dedicated to the composer's work. In this context, the opening of Music at the Brancovenesti Palaces' second season took place in March 7th 2010 at the Mogosoaia Palace, through the recital of a young polish pianist Piotr Szychowsky, that also inaugurated the new Essex-Steinway piano.

Piotr Szychowsky's recital, the pianist thought to be one of the most important leaders of the newest generation of pianists in Poland - according to the Polish Institute's website, was composed of several of Chopin's works such as waltzes, mazurkas and a polish.
Szychowsky's interpretation reminded us of our need to listen to such a direct music, that openly expresses feelings without the uneasiness specific to the cynicism of the 20th century. It showed us various instances of Chopin: from light and fuzzy appoggiatures to deep and difficult lyrical moments. The recital ended with the famous Scherzo op. 39 in do minor, that made the large audience that came to Mogosoaia have a hard time to stop applauding.

What does Chopin's music represent to Piotr Szychowsky?
Piotr Szychowsky: Something interesting happens with Chopin's music. It has the essence of the polish and the Slav spirit, that makes us, the polish, love it and also the other Slav people that vibrate to that kind of musicality. At the same time this music is universal. This quality makes it appreciated, loved and requested by music lovers from all over the world, including Asia, because it combines this polish and Slav essence with the universality that is specific to great music, created no matter by what composer.

The next concert from Music at the Brancovenesti Palaces' season will take place on March 21st 2010 and it will also be dedicated to this year's two important celebrations : 200 years since the birth of Frédéric Chopin and Robert Schumann.
Andra Ivãnescu
Translated by Monica Cristina Tone, Andreea Velicu
MA students, MTTLC, Bucharest University