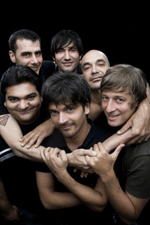 Neri per Caso Recital at Radio Concert Hall
Monday, 15 March 2010 , ora 10.52

This year the International Women's Day was celebrated at the Mihail Jora Concert Hall with the innovative performance of Neri per Caso, a vocal Italian group who sing without the aid of instruments. One of the organizers, Dana Cristescu, agreed to give us more information about these musicians - that is how we found out about the successful story of "Neri per Caso" and the reasons for choosing their name.
Neri per Caso is an all-male group à cappella that made its debut fifteen years ago at the San Remo Music Festival where it won the trophy with the song Le ragazze. Until now they have won no less than six platinum discs. The group consists of six boys who were born in Salerno, near Naples and who actually have known themselves since childhood - they are brothers, cousins or friends - and they never thought of splitting up as people in the south of Italy have a saying: 'Never fall aboard with your closest'. Why did we invite them to perform on the International Women's Day? Because we believe women deserve a special musical gift from a group of artists who are able to replace any instrument and who have a varied repertoire, from airs to cartoon soundtracks. It is definitely worth mentioning the fact that they composed the soundtrack for many Disney productions such as The Jungle Book and the Hunchback of Nôtre- Dame.

Is there any story behind the choosing of this particular name? What does Neri per Caso actually mean?
Neri per Caso can be translated as 'Black people by mistake' and the story behind it is extremely nice. It is related to an event which took place in Rome in 1995 when, after an audition for the San Remo Music Festival, the six musicians went to a friend's restaurant. They were all wearing black T-shirts so the manager of the restaurant suggested them the name of Neri per Caso which became a brand and made them wear black on any public appearance.

Given your repertoire, how would you define Neri per Caso's musical style?
We have combined the Gregorian chants from the Catholic cathedrals and the African-American blues. In May last year, Neri per Caso was awarded with the American Caras Award for the Best à cappella Project. The group has cast around the world several times. They are globe trotters as they have performed everywhere in the world and collaborated with many distinguished international musicians. Their ability to approach so many different genres and to communicate in various musical styles says a lot about their professionalism. The concert scheduled for March 8th 2010 took place in the Radio Concert Hall, as the very good acoustics matched the Neri per Caso's style. The repertoire included their own works as well as international songs signed by Sting, Louis Armstrong and Bob Marley which were performed in a rather personal manner.
•
On Monday, March 8th 2010 the ladies were able to enjoy a very special present: the concert of Neri Per Caso held at the Radio Concert Hall which has proved once again that in Italy, music is a family business. The members of the group are Domenico Pablo Caravano, his brother Gonzalo, their cousins Ciro and Diego and their friends Mario Crescenzo and Massimo de Divitiis - six 'italiani veri' who came to Romania for the second time.
Neri per Caso have been true to their name and appeared on the stage dressed in black cap-a-pie and, as announced by Mario in an English which made the other members of the group laugh, presented to the audience a chronological biography of the group through their favourite songs.
Englishman in New York set the way to the 1990s pop music mixed with rap and reggae tunes, quotes from Queen as well as two jazz songs by George Gershwin. The group also performed covers of Michael Jackson and Bob Marley and songs dedicated to women, such as Viva la Mamma and Donne. What kind of music do they enjoy most? Well, this is something they cannot agree on from the beginning.

Domenico: I wouldn't say I have a favourite music genre.
Massimo: It depends on who you're asking. I'd say reggae.
Diego: Me too. I enjoy rap and reggae.
The Italians have also sung Le Ragazze, the song that made them famous. When asked if they would ever stop performing this song they answered, 'It doesn't get boring. We love the music, we love the lyrics, and we love it too much.' The Italians were voluble, charming and exuberant. We hope they come back to Romania for the third time.
Alexandra Cebuc and Andra Ivănescu
Translated by Georgiana Mîndru and Andra Stroe
MA students, MTTLC, Bucharest University