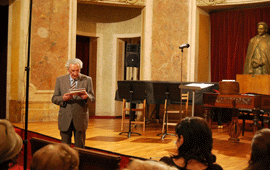 Another exposition dedicated to George Enescu
Friday, 12 March 2010 , ora 10.42

On Wednesday, March 10, 2010 took place the opening of the George Enescu and the Romanian Fiddler's Music Exposition at the Cantacuzino Palace. It was a rich exposition, with new documents, the results of over 40 years of research by musicologist Viorel Cosma. With the help of the George Enescu National Museum team (Cristina Andrei - museographer and Aurelian Popovici - illustrator) 20 panels are presented, which captured the profound and longterm relationship between Enescu and six great Romanian fiddlers: George Ochialbi, Lică Ștefănescu, Cristache Ciolac, Gheorghe Dinicu, Nicolae Biucă și Grigoraș Dinicu. Violinist Petrică Pană's Orchestra offered great musical moments. The exposition is open every week from Tuesday to Sunday until March 26.

Before the opening, we had the chance to talk to Mrs. Laura Manolache, the manager of the George Enescu National Museum:
"After a series of portrets of Romanian composers from the George Enescu National Prize for Composition laureates, and after another series of expositions dedicated to George Enescu's creations, today, at the Cantacuzino Palace Auditorium, George Enescu National Museum offers an exhibition with an surprising theme, designed to show the profound relationship between the master George Enescu and the Romanian fiddler's music. Musicologist Viorel Cosma provided most documents.
Documents, posters and programms from the George Enescu National Museum archives, from the Union of Composers and the Romanian Academy are being reunited today on the 20 panels which capture this profound and longterm connection that Enescu had with the famous fiddlers; some of them have reached a professional musical level, after they gradated from superior musical institutions. Their presence on some auditions or premieres from Enescu's work; their presence in different moments of his existence prove their relationship.
Also, the fact that Enescu carefully noted in his manuscripts various songs gathered from the fiddlers, or the fact that as an academician he reviewed folklore song books, lead us to this knowledge that he had from the interior of the folk music and the Romanian fiddlers' music. It is a celebration and the moment of the opening is accompanied not only by Viorel Cosma's speech, the scientific consultant of the exposition, together with the George Enescu National Museum team: Cristina Andrei - curator and Aurelian Popovici - illustrator, but also by the musical moment offered by Petrică Pană' s orchestra."

The musicologist Viorel Cosma - Scientific Consultant of the Exhibition:
"The idea of this conference accompanied by music was born after 40 years of research on Enescu's connections with the famous Romanian fiddlers. Of course, it was an extremely difficult subject. Enescu's collaboration with these fiddlers, which lasted for more than 40-50 years was a real adventure, I may say, because it is very difficult to work with these people. They are well intended people, but in the same time completly out of the scientific issues: dates, years or works' titles. The exactness of the song they performed was a matter difficult to establish. Since 1960, when the book "Figures of fiddlers" appeared, I might say that it was the moment when the idea of a presentation concert of these connections of George Enescu has taken shape.
The exhibition that the George Enescu National Museum presents will generate a great stir in my opinion, because there are almost 80% of new documents, there are fundamental things meant to understand Enescu's connection with the folklore and the fiddler's music - if I may say, he has treated all these six fiddlers as equals, as music professionals. Of course Enescu had a lot of advantages from this connections, which he did not hesitate to mention in many interviews, saying that he learned more from the fiddlers than from school. One realises that such statement is shocking nowadays, but Enescu was modest and he tried to prove that these fiddlers passed their repertoire from father to son. They had special technical elements that Enescu was directly interested in, because in some works, especially in Sonata inspired from Romanian folklore, he wanted to find those elements behind the technique, which could only be discovered through direct contact with these people.
By the moment I finish this project, of course there will be a revelation about Enescu's connections with fiddlers' music and most of all with these great fiddlers. It is a long lasting relationship which is worthy to be carefully studied. By means of this exhibition, we tried to catch all these revealing things about Enescu's connections with fiddlers' music, and through the concert offered by Petrică Pană we will try to make the most of the songs that Enescu noted. Today, in premiere we will make the effort for these songs to be heard. I am convinced that the audience who knows the Rhapsodies, Sonata for piano and Sonata for violin 'in Romanian folk style' will also recognise a lot of these fragments of fiddler songs."
Andreea Chiselev
Translated by Cristina Moraru, Andreea Velicu
MA Students, MTTLC, Bucharest University