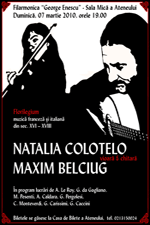 Florilegium at Romanian Athenaeum
Tuesday, 16 March 2010 , ora 10.57

It was on that day when the sun's ray
was darkened in pity for its Maker,
that I was captured, and did not defend myself,
because your lovely eyes had bound me, Lady.

These Petrarchan verses came across my mind on Sunday, March 7, 2010, during a recital which took place in the Small Hall of the Romanian Athenaeum. The recital was performed by violinist Natalia Colotelo-Pancec and guitarist Maxim Belciug.
The program entitled Florilegium brought together works written between the 16th and the 17th Century. I must say that the arrangement of the recital was a surprise for me, as I spent two hours relishing on the musical compositions of Adrian le Roy, Giambattista Gagliano, Martino Pesenti, Gianbattista Pergolesi and Claudio Monteverdi - among others. In fact, these pieces were initially meant for singers accompanied by guitar. But the arrangement for violin and guitar proved to be both surprising and original.
The melancholic character and the delicate expression of courtly love, pure and idealistic, all of this was well identified and conveyed by Natalia Colotelo Pancec, and Maxim Belciug's guitar accompaniment was no less impressive. As the simple yet profound sound of the violin was rising on the arabesques of the guitar, I found it impossible not to think of Petrarch's sonnets. Although he was not contemporary with the composers whose works were performed last night, I believe his sonnets are very compatible with the song interpreted by Natalia Colotelo Pancec and Maxim Belciug.
The end of the recital came with an encore, a sign that the spectators who practically filled the hall were impressed by their performance: Greensleeves, and English song of the 16th Century, with an unknown author, was played for the public by the two artists.
All in all, it was a wonderful evening and I hope its freshness and tenderness will invoke the beginning of Spring that is yet to come. The concert is recorded by Radio Romania Music and you will be able to enjoy it on March 30, 2010, at 7 PM.
Petra Gherasim
Translated by Andra Stroe and Valentina Tache,
MA students, MTTLC, Bucharest University