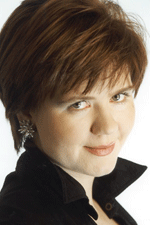 Dana Ciocarlie and Cristian Ianciu in recital
Wednesday, 17 March 2010 , ora 10.19

Dana Ciocarlie feels like home, both on the international stages and on the regional, more intimate ones, where the audiences must be drawn into and led towards classical music. Very close to Lille, for example, at Bondue, she performed along Cristian Ianciu, concerto-maestro at Lille's Orchestra, in a sold-out show, before leaving for his Asian Tour.
The two soloists have presented an attractive and diverse show, about which Dana Ciocarlie talked of with a lot of charm and poetic feeling. Sonata no.3 by Brams reunited the two complementing and charming artists, along with Ravel, Chausson and The Romanian Dances by Bartok. Both artists are gifted with a light tehnique and are attached to the sound culture.
The piano player seduced the audiences through her unique imagination and her selfless personality, while Cristian Ianciu imposed his artistry through a discreet, much more intimate lirism. It is certain that their energy has conquered the audiences for a long, long time.
Alexandra Diaconu
Translated by Monica Cristina Tone, Andreea Velicu
MA students, MTTLC, University of Bucharest