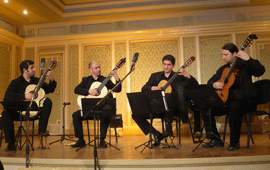 Tuesday evening season - Alhambra guitar quartet
Wednesday, 24 March 2010 , ora 10.21

Another edition of
Tuesday evening season
took place at the Small Hall of the Romanian Athenaeum, Tuesday, March 23
rd
2010. We had the opportunity to listen to
Alhambra guitar quartet
, with Daniel Dragomirescu, Cezar Lefter, Marius Țâmpău and Ilie Aurelian Zugrav.
The band was created in the summer of 2006, as a result of the four instrumentalists' initiative, the teaching staff in the guitar school from Iasi. In the actual composition, the quartet has given concerts since March 2008.
The band made a diverse repertoire, including works from the preclassical period, up to modern and contemporary period. This is how, in the evening of March 23rd, we could listen to Concerto in D major by Georg Philipp Telemann, Concerto in D major by Antonio Vivaldi, Introduction and Fandango by Luigi Boccherini, Blue Ocean Echo/Country Gentleman by Chet Atkins, Pearson Elassomorph by Stephen Funk, Take Five by Paul Desmond, Rumba by Stepan Rak, Inverno porteño by Astor Piazzolla, Concerto democratico by John Duarte, and, at the end, a modern arrangement for four guitars after the Canon by Johann Pachelbel. An extremely attractive programme, which united the most diverse styles and resonances.
Up to present, the group had recitals at TVR Iași and Radio Iași, at the Museum Complex of Bucovina and Dom Polski in Suceava, at the Palace of Culture, the Luceafărul Theatre, it has been invited at the National Festival of Classical Guitar and at Moldova Philarmonica in Iași, as well as abroad, in cooperation with Romanian Cultural Institute I.C.R. Dimitrie Cantemir (Istanbul - Turkey).
The greatest wish of the members of the Alhambra Quartet is to keep diversifing the list of works tackled and to meet the public as often as possible, in order to show the multiple interpretative valences of the guitar and a different approach of a more or less known repertoire.
The recital in the evening of March 23rd 2010 was extremely successful, the four guitar players caught the public's attention, who, although in small numbers, rewarded the highly artistic concerto with warm applauses. The instrumentalists from Iasi displayed a very good technique, homogeneity, and the switch from one style to another was natural, elegant and showed a clear pleasure to play.
At the public's insistent request, the quartet offered an encore: Meiner Sing by D. Reinhardt. Such events are always welcome and we are looking forward to listening to them with great interest at the Small Hall of the Romanian Athenaeum.
Adriana Nițu
Translated by Zenovia Popa, Andreea Velicu
MA students, MTTLC, University of Bucharest