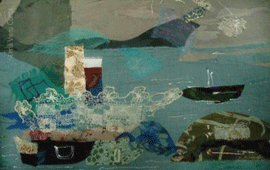 Tempo Rubato - An Exhibition by Lena Vieru Conta
Friday, 19 March 2010 , ora 9.18

If by chance I were to pass by the exhibition gallery, I would have certainly been curious to find out who was the author of the painting which announced a vernissage. I learnedly entered the lobby of the Hilton Hotel because Lena Vieru Conta is famous not only in music, but also in imitative arts. During the exhibition called Tempo Rubato pianist Alexandru Burcă held a jazz performance.
Being perhaps aware of the 'Janus aspect' of an artist's life and using modern techniques such as graphics and collage, pianist Lena Vieru Conta has proved that an artist can make time stop, no matter the means of expression.
The main sources of inspiration were the contemplation of nature and the cityscape by night and I would dare to say that some of the works reminded me by Salvador Dali's double image paintings even if the vision is a bit different.
From lace to silk and wool - all manually painted - the collages were admired by numerous people, among whom I have noticed composers Maia Ciobanu, Octavian Nemescu and Nicolae Coman. Maybe the 'time sieve' of Anatol Vieru's music has found its place in his daughter's art, in the Tempo Rubato exhibition where Time becomes the bond between Music and Imitative Art.

Can music be expressed in other ways than in the musical language? This is what Lena Vieru Conta answered:
«There are many ways in which music can be rendered through imitative arts, but I do not think this is what I am doing. I simply do the two things at the same time and express myself the way I want to. I would not say the two arts 'reflect' one another, but there is of course a synaesthesia. I have had a similar exhibition in September 2007 with larger works, made directly on textile. Now I have returned to collages and colour drawings. I have also exhibited works abroad - this is definitely not my debut. I would not say I prefer collage to other techniques. I just think that this is a stage of my career. It may last or not. I have made oil paintings, especially portraits, textile and decorative as well as still life paintings. I do not know what I am going to do next. »
The pianist Lena Vieru Conta's exhibition can be visited until April 14th.
Alexandra Cebuc
Translated by Georgiana Mîndru, Andreea Velicu
MA students, MTTLC, University of Bucharest