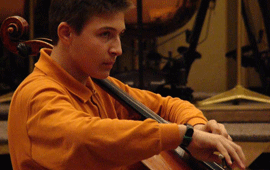 Eurovision Young Musicians 2010
Tuesday, 16 March 2010 , ora 9.26

Eurovision Young Musicians is the opportunity to see some of the best young artists in a genuine show. The audience can watch the contest and be witness to the virtuosity of these young talented artists. The whole setting was full of emotion, which was felt by the contestants, their parents, who had come to support them and the entire audience as well.
The event was presented by Marius Constantinescu and Camelia Văcaru of TVR Cultural. I think what made the competition even more difficult was that the artists had to cope with the pressure of the cameras and with all sorts of indications. Moreover, there were a few technical problems last night, too. The lights on the stage went out a few times during the performance of oboist Raymond Cimpoieșu, but he managed to overcome the moment. To some extent, it was the merit of the orchestra, too. Some of the instrumentalists were staying in semi-darkness which I think made the reading of the score rather impossible. Still they carried it off well and proved to be true professionals.
The six young artists who competed in order to get to represent Romania in the Finals in Vienna on May 14th were: piano-players Maria Elisabeta Zdralea and Dragoș Dimitriu, percussionist Andrei Voica, oboist Raymond Cimpoieșu, cellist Ștefan Cazacu and violinist Ioana Cristina Goicea. All these young people have a high level of performance and I think it was very difficult for the jury to choose a winner. The winner was 16-year-old Ștefan Cazacu who performed Part V of Friedrich Gulda's Concerto for Cello and Wind Orchestra. The jury was conducted by Professor Dr. Valentina Sandu Dediu and its members were pianist Horia Mihail, violinist Alexandru Tomescu, cellist Răzvan Suma, flutist Ion Bogdan Ștefănescu, conductor Tiberiu Soare, musicologist Oltea Șerban Pârâu and TV producer Valentina Băințan.
The six young people were accompanied by the National Youth Orchestra conducted by maestro Horia Andreescu. The ensemble sounded excellent, on one hand because maestro Horia Andreescu knew how to emphasize the features of each score, on the other hand because the instrumentalists surprised with a performance full of power and energy.


Here it is what last night's winner, cellist Ștefan Cazacu, son of maestro Marin Cazacu, declared in the end:
'It felt wonderful being on the stage. I would have liked to sing once again, just for the pleasure of it. I am very happy that I have won. In Vienna I will not only represent Romania, but also my colleagues who have taken part in tonight's performance and whom I want to congratulate.'
How did you come up with the idea of choosing such a powerful piece for this contest?
It was also my father's idea. I admit that I chose this piece which I find spectacular after we had consulted for quite a while.
The final classification was:
Ștefan Cazacu, 16 - cello
Ioana Cristina Goicea, 17 - violin
Dragoș Dimitriu - piano
Raymond Cimpoieșu, 17 - oboe ex aequo
Andrei Voica, 18 - marimba ex aequo
Elisabeta Zdralea, 16 - piano
Petra Gherasim
Translated by Cristina Caramida, Andreea Velicu
MA Students, MTTLC, University of Bucharest