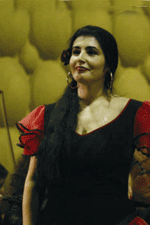 Soprano Nicoleta Radu and alto Laura Magdalena Scripcaru in Vienna
Tuesday, 16 March 2010 , ora 9.30

On Sunday, March 14th 2010 a modest poster on the door of a cathedral in the Landstrasse district of Vienna was announcing the concert of a recently formed (2008) Viennese chamber orchestra: Metropolitan Kammerorchester Wien.. The assembly was going to be led by an Italian conductor, Giuseppe Montesano, and two Romanian-born singers, Nicoleta Radu and Laura Magdalena Scripcaru, had been cast as soloists, accompanied by two violinists from the Wiener Philarmoniker: Shkelzen Doli (from Albany) and Erich Schlagerl (from Austria). The performance included two 'hits' from the 18th-century repertoire: Johan Sebastian Bach's Concerto for Two Violins and Giovanni Battista Pergolesi's Stabat Mater (Oratorio).
Bach and Pergolesi's popularity -I told myself - imposed by the Romantic century, is in perfect tune with the retro style of the cathedral where the concert was going to take place. Here, the paintings from around 1900, preserved in excellent conditions, render, with an unspoiled respect, the frescos of old Italian masters. But, reading the poster, I couldn't help thinking (forgive me my prejudice) that it was going to be just another small Sunday concert - of 'encouragement - , the kind of concert with a small audience patiently listening to the debut performances of some young artists, accompanied by some more experienced artists.
To my great surprise, I was glad to see that the music had been carefully studied and, moreover, the concert was thoroughly sustained from beginning to end by young conductor Giuseppe Montesano, and it had some moments of exquisite performance, due especially to the two soloists of Pergolesi's Oratorio. Soprano Nicoleta Radu had prepared her role in great detail, paying very much attention to the mimics, pronunciation, and the vocal exigencies of this particular score. The second soloist, Laura Magdalena Scripcaru, member of The National Opera of Iași, proved herself a balanced singing partner, with a round vocal timber, a correct intonation and a rather interiorized attitude.
Expressing an attitude of beneficent respect for old music and its greatest 'hits', the concert - sponsored by the Austrian-Romanian Society - gained its greatness in great part thanks to the two Romanian soloists whose participation and I am glad to emphasize in this article.
Haiganuș Preda Schimek
Translated by Oana Romanescu and Alina-Olimpia Miron
MA students, MTTLC, Bucharest University