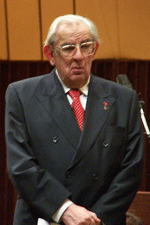 In memoriam - Ștefan Gheorghiu
Wednesday, 17 March 2010 , ora 11.01

Ștefan Gheorghiu, the master of the Romanian violin school has recently passed away. Born in 1926, student of Eduard Caudella, applauded by George Enescu, at whose recommendation he then entered the Paris National Superior Conservatory, Ștefan Gheorghiu started as an orchestra soloist at only seventeen, under Mihail Jora's baton.
At the first edition of the 'George Enescu' International Festival, he and his brother, pianist Valentin Gheorghiu, were awarded First Prize for best interpretation of Enescu's Sonata No. 3 dans le caractère populaire roumain.
Master Ștefan Gheorghiu was not only an excellent interpreter, but also a faultless professor; to name only a few of his former students who have reached fame: Corina Belcea, Mihaela Martin, Silvia Marcovici, Gabriel Croitoru, Irina Mureșanu, Alexandru Tomescu, Florin Paul and Adelina Oprean. Due to his excellent reputation in the field of education, he was invited to join the juries of many prestigious competitions: 'Marguerite Long - Jacques Thibaud in Paris, 'Paganini' in Genoa, 'Queen Elisabeth in Brussels, 'Wieniawski' in Poznań, Poland, 'Tibor Varga' in Sion, Switzerland.
Modest by nature, master Ștefan Gheorghiu said in an interview: 'I have tried to serve music, not have it serve me.'
God rest his soul!

Violinist Mariana Sârbu:
'For me, Ștefan Gheorghiu has been one of the most wonderful persons I have met in my life, who offered me a lot, musically and humanly speaking. Maybe he could have lived more, and he could have taught the studious young artists everything that he knew about violin. He is a great loss, and his death has caused us all a great suffering.
I have many extraordinary memories of master Gheorghiu. The last one dates back to December 27th 2009 - the last time we celebrated St. Stephen together. I was extremely lucky to find him in a very good condition. He was amazingly lucid, the same person of an extraordinary presence, but, of course, physically, he was very weak. We had decided - most probably out of a special sense that we all feel at times, but can never explain - that is was absolutely necessary we should see him. And my husband and I went to see him. We spent just one day in Bucharest - December 27th -; we sat next to him and we recalled the years when we were students and he was professor at the Conservatory. It was unbelievable. I think he was happy too, but we were the happiest people that day.'

Violinist Gabriel Croitoru:
'I want to present my most sincere condolences to Mrs. Gheorghiu, to her children - Irina and Andrei - and to the master's brother - Valentin Gheorghiu. Everybody has nothing but words of praise for master Ștefan Gheorghiu. He was one of the most renowned violin teachers in the world and we are all glad the Romanian school found a mentor in him for so many years. I find myself - fortunately - among the master's disciples. Sad to say, life doesn't take pity on anyone!'

George Cosmin Bănică, concertmaster at the 'Tonhalle' Orchestra in Zurich:
'It is very difficult to say something in such moments. We will all miss him because he was an extraordinary man. He was a friend to all of us, he knew how to get close to us and this is the reason we all loved him so much. As for professor Ștefan Gheorghiu, I think the Romanian school has suffered an irreparable loss. He was an extraordinary teacher. There is no point in telling now how many exceptional violinists he moulded.'

Translated by Oana Romanescu, Alina-Olimpia Miron
MA students, MTTLC, Bucharest University