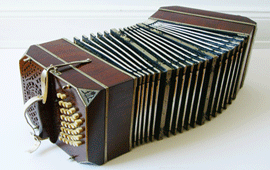 The Bandoneón and Accordion International Festival at the Radio Concert Hall
Friday, 19 March 2010 , ora 11.10

The opening concert of the Bandoneón and Accordion International Festival took place at the Radio Concert Hall on March 17th. It is a rather unique musical event in Romania, as these two instruments are less known and studied in our country. The fact that they were accompanied by the Radio Chamber Orchestra under the baton of conductor Horia Andreescu has also had a particular impact.
In the beginning of the concert Madeleine Soave performed on accordion and bandoneón two works of composer Aldemaro Romero's: Suavecito and Song for Elisabeth. Then Peter Soave performed Astor Piazzolla's Punta del Este Suite for bandoneón and orchestra. Although the two instruments are not so tunefully generous, the performers managed to emphasize the technical features and the qualities of expression that can be achieved with these instruments. The timbral homogeneity between the accordion and bandoneón and those of the instruments of the orchestra came as a great surprise for us, the audience, who were not so familiar with such a combination. .
In the second part Peter Soave was joined by Alina Bottez, Yuri Tsiple and the Radio Choir. They performed contemporary composer Luis Bacalov's Misa Tango for mezzo-soprano and tenor, bandoneón solo, mixed chorus and orchestra. This work is an adaptation of the classical liturgy on rhythms from Argentina, the composer's native country. This was another innovative mix between instruments and vocals, , tuneful, rhythmical and expressive as well as dynamic and full of contrasts. Of all these sounds, the voice of baritone Yuri Tsiple singled itself out, both powerful and warm. I noticed the way the soloists, the conductor and the orchestra managed to communicate in their attempt to emphasize the subtleties of a difficult score.
Piazzolla's well-known work Libertango was chosen for the finale, in an arrangement for choir and orchestra made by Adrian Enescu. Although the rhythms for the vocal part were diverse, characterized by ragtime formulas, the arrangement did not modify the original work in an innovative manner.
It has been a special event and fortunately it is not the only one of this kind. You are invited to attend the concerts of the Bandoneón and Accordion International Festival until March 24th.
Andreea Chiselev
Translated by Cristina Cărămidă, Georgiana Mîndru
MA Students, MTTLC, Bucharest University