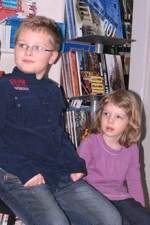 Review of The Little Music Lover's Lesson
Tuesday, 23 March 2010 , ora 16.20

On March 19th at the George Enescu National Museum in Bucharest a new edition of the programme called The Little Music Lover's Chronicle was aired. Gathered under the benevolent wings of Ecaterina Cantacuzino, the mother-in-law of the famous Maruca Cantacuzino, more than twenty curious children rushed into the Cantacuzino Hall decorated in the famous rococo style with little angels, musical instruments and many other ornaments whichform the so-called 'Realm of Sounds' over which, as the children too had already guessed, reigns composer George Enescu.
In this sumptuous and picturesque setting, the two elves, Arieta and Pochettina(Simona Tănascu and Maria Monica Bojin), together with Tony Tinytone (Alina Teianu) chatted with The Yellow Dragon, the ruler of the The Kingdom of Rain, who was very upset because his river had died. Which river? A river similar to Bedrich Smetana's Vlatva . We were all curios to see whether the music can make the Dragon's river come back to life. Unfortunately, it was not that easy because so many things happened. Firstly, the Dragon got Pochettina and took her to his kingdom. Suddenly Pochettina vanished into thin air while Arietta,Tony Tinytone andthe children went on a flying saucer to find her. Our heads were spinning round as Tony Tinytone did not know much about flying that machine. When they finally arrived, , the dragon was holding Pochettina prisoner. "Go and save her!" shouted the children to Arieta. As if you could beat up an angry yellow dragon who is also a little silly! Finally, everything ended well. The elves managed to bring the river to life with the help of Smetana's music while the children and the silly dragon have learned a good deal of interesting things about Bedrich Smetana, about his poem called My Country, and especially about the work Vlatva. All is well that ends well, isn't it? That is what makes a story believable and a music lesson charming.
Judging by the children's enthusiastic reaction, you may say this lesson, the first of a project series that will develop in three George Enescu Memorial Museums was a total success. For those interested in watching other musical stories, the following editions of The Little Music Lover's Lesson programme will take place at the George Enescu Museum in Sinaia on April 6th and at the George Enescu Memorial House in Tescani on June 4th.
Ioana Marghita
Translated by Cristina Mihaela Sandu and Georgiana Mîndru
MA Students, MTTLC, Bucharest University