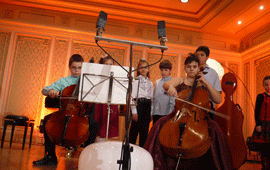 'The Magical Cello' at Tuesday Evening Session
Thursday, 18 March 2010 , ora 11.40

On Tuesday, March 16th a rather unusual event took place at the Small Concert Hall of the Athenaeum: a show concert called 'The Magical Cello' held by the youngest instrumentalists in Romania, namely children between the ages of seven and thirteen from Iași, Cluj, Târgoviște, Hunedoara and Bucharest. This was made possible with the support of conductor Marin Cazacu, an artist with a young spirit who inspires the love for music and particularly for this instrument to younger generations.
This year the 450th anniversary of the first cello ever built is being celebrated, as the host of the show, Marin Cazacu mentioned and also managed to create a very relaxed atmosphere. He has organized everything like a game and has told us stories, some of them funny, about the 'magical instrument' as he described it, as well as about the composers selected for this particular event, many of which were cellists of their time. Therefore we listened to works by Carl Orff, David Popper, Shinichi Suzuki, Johann Sebastian Bach, Hugo Schlemuller, Jean Baptiste Bréval, Antonio Vivaldi, Ludwig van Beethoven, Alexandr Arutunian and Carl Maria von Weber.
The performers were Otilia Maria Lazăr, Maksay Csaba, David Soma, Alexandra Curcă, Doroteea Liță, Clara Lupașcu, Dragoș Enache and Izabela Gherciu and were accompanied by pianists Adriana Toacsen and Olga Babadjan.
The shortcomings of the young performers' skills have been quickly pardoned as the children's enthusiasm turned the atmosphere inside the Small Concert Hall of the Romanian Athenaeum into a fairy tale.
Distinguished musician Marin Cazacu's mission of promoting young talents is truly a noble initiative which deserves our immense gratitude. As he has said, we have to cherish the cello more, as it is an instrument so close both to the human voice and soul…
Adriana Nițu
Translated by Georgiana Mîndru and Valentina Tache
MA students, MTTLC, Bucharest University