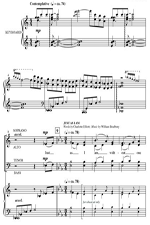 London - Invitation to Composers
Wednesday, 31 March 2010 , ora 11.51

On the 31st of March 2010, at the Royal Music Academy in London, a musical event that has raised a lot of interest will take place. The event is organised by the London Schubert Players Society, with the participation of Academy students and British composers. Anda Anastasescu, founder and artistic director of the London Schubert Players Orchestra, launched the Invitation to Composers project a year ago, seeking to encourage the creation of chamber music pieces based on different instrumental formulas as well as the exploration of original themes from musical literature.
The inspirational model for the first project was Olivier Messiaen's Quartet for the End of Time, scored for piano, violin, viola and clarinet.
For this unusual type of quartet, no less than 50 works were created as part of the project, out of which 21 compositions (from 11 countries) were selected to be performed during concerts and workshops in London, Edinburgh, Paris and Bucharest.
On March 31st in London the first of this series of performances will include Messiaen's piece - played by Anda Anastasescu and three other members of the London Schubert Players orchestra - and four of the chamber works selected during the Invitation to Composers project: quartets signed by Bjørn Bolstad Skjelbred from Norway, Roberto Brisotto from Italy, Salvador Torre from Mexico and Carmen Cârneci from Romania. For the next year, this ambitious project, part of the EU's cultural and educational programme, has selected George Enescu's Chamber Symphony as a model for the composers to study.
Liliana Staicu
Translated by Cristina Petrescu
MA student, MTTLC, Bucharest University