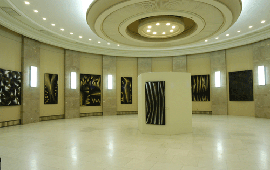 Proms of Delight - Voices of Romance
Tuesday, 30 March 2010 , ora 9.49

As Dan Dediu mentioned in his book Radicalisation and guerilla: 'Opera awakens in many of our contemporaries a conflicting feeling. On the one hand, the genre as such is not particularly liked except by a minority of classical music lovers that form some sort of a musical sect. On the other hand, fragments from famous opera works, in no less famous interpretations, can be heard in any supermarket or in the casetteplayers of the cars that stop at the traffic light.'
This way, on the one hand, an opera performance is addressed to a small audience, but on the other, a performance that contains arias, duets and famous orchestral moments aims towards a large audience, if not to every classical music lover. Proms of Delight - Easter 2010 was such an event. Voices of Romance took place Saturday, March 27th 2010 at the 'Auditorium' Hall of the National Art Museum of Romania.
We were able to listen to some orchestral fragments so well known that they have become ring tones for mobile phones, interpreted by the 'Jeunesses musicales' Symphonic Orchestra, conducted by Adrian Morar. Such fragments were: Aragonaise from the opera Carmen by Georges Bizet, Adagio from the ballet Spartacus by Aram Haciaturian and the Overture of the opera Wilhelm Tell by Gioachino Rossini.
The four soloists of the evening were mezzo soprano Oana Andra, soprano Narcisa Brumar, tenor Teodor Ilincăi and baritone Yuri Tsiple, who also offered famous opera and operetta moments by Pyotr Ilyich Tchaikovsky, Emmerich Kalman sau Giacomo Puccini.
The concert was recorded and will be broadcasted on Radio Romania Music on April 6th 2010 starting with 17.00.
Andra Ivănescu
Translated by Țone Monica Cristina and Elena Gheorghe
MA students, MTTLC, Bucharest University