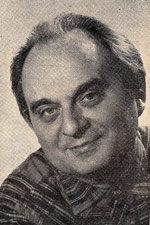 In memoriam Francisc Laszlo
Thursday, 18 March 2010 , ora 11.40

We regretfully announce that a great personality of Romanian musicology, Francisc Laszlo, has passed away yesterday evening. He was an exegete of Béla Bartók's musical composition and a university professor at the "Gheorghe Dima" Music Academy. Born on May 8th, 1937 in Cluj Napoca, Francisc Laszlo graduated from the city's conservatory, where he also earned a Doctorate of Music in 2001.
In addition to his prolific career as a flautist, performing concert and chamber music, Francisc Laszlo authored a great number of volumes on musicology, studies, essays and articles, many of them on Béla Bartók's compositions. He was awarded the Romanian Academy Prize for his contributions in musicology. He also received the Béla Bartók and Zoltan Kodaly commemorative medals in Budapest, and between the years 1982 and 1995 was awarded numerous prizes by the Union of Romanian Composers and Musicologists.
Francisc Laszlo belonged to a number of prestigious musical associations, such as Salzburg's "Mozarteum" International Foundation, and was a founding member of the "Sigismund Toduþã" Foundation and the Romanian "Mozart" Society, both located in Cluj Napoca. The distinguished musicologist will be laid to rest on Monday, March 22nd.
May he rest in peace!

University Professor Adrian Pop, rector of the "Gheorghe Dima" Music Academy in Cluj Napoca:
"The death of Francis Laszlo or Feri, as we his friends used to call him, leaves a painful void in our academic community. After many years as a university professor at the National University of Music in Bucharest, he returned to his birth city of Cluj, where he'd spent his formative years. He was a guiding light for his students, colleagues, and our scientific activities.
He was a truly European musicologist, as few remain today. An amazing friend, a promoter of music culture, creator of musical events, societies and foundations, he was the very heart of the Romanian "Mozart" Society, which will carry on his message. We knew, of course, that Feri would leave us. He suffered for a long time and we anticipated this separation. The entire academic community of Cluj is bereaved and mourns his loss."

Translated by Cristina Petrescu, Mircea Filimon
MA Students, MTTLC, Bucharest University