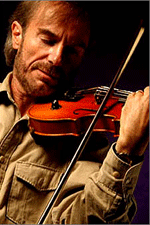 Jean-Luc Ponty in concert at Sala Palatului
Tuesday, 16 March 2010 , ora 11.46

I am one of those people who discovered with fascination, in the 90s, at the booths in Piata Romana, the cassettes of this wonderful violinist called Jean-Luc Ponty, who had imagined the violin, about four decades ago, as a jazz instrument of first importance. Jean-Luc Ponty has remained for me, and probably for all the others who watched him on Tuesday, 11th March 2010, not only one of the rarest violinists-improvisers, but also a legend, whose presence in Bucharest was a dream come true.
Ponty has gone through many stages during his 40 year long career, from the short experience as an instrumentalist in the Lamoureux Orchestra, to the famous collaborations as a jazz artist with Frank Zappa, John McLaughlin and Mahavishnu Orchestra, Al di Meola, or Stanley Clark. Ponty will turn 68 in September, but trust me, his age isn't showing neither in his looks nor his performances as a violinist.
The concert last night was an instrumental "tour de force", which shaped a possible map that indicates both the unsuspected potential and the limits of the violin as a jazz musical instrument. I admired that "electric" sound, with or without the vibrato, the constant "blank" sound, which has become Ponty's mark, the hand technique, which was spectacularly demonstrated, for instance, in Celtic Steps, a song taken from his latest album, The Atacama Experience. He played both a classic violin and a metallic-blue electric violin, without fundamentally altering the sound.
As far as his compositions are concerned, his style isn't radically different from the one that he had in the 70s; recorded on albums such as Aurora, for instance. Last night, he played mostly his own compositions, taken from his 80s music albums - such as Life Enigma, or Mystical Adventures, from his latest studio disc, but he hasn't neglected Thelonius Monk either.
As a conclusion, I would like to mention here the three musicians that collaborate with Ponty; all of them excellent artists, with solo moments that have been enthusiastically applauded, from the spectacular bassist Guy Nsangué Akwa from Cameroon, to pianist William Lecomte, and to drummer Pierre-François Dufour, the youngest and newest member of the group led by Jean-Luc Ponty.
ªtefan Costache
Translated by Oana Romanescu and Mircea Filimon
MA students, MTTLC, Bucharest University