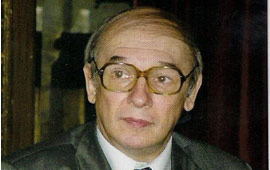 The Octavian Nemescu Anniversary concert
Wednesday, 31 March 2010 , ora 10.46

Octavian Nemescu
, one of the most important figures of Romanian composition, was celebrated when at his 70th birthday with a concert-medallion that took place on Tuesday, March 30th 2010, at the Opera Hall of Bucharest National University of Music. The large audience was the indisputable proof of the value the musician has, and the presence on scene of the "Archaeus" and "Game" ensembles was guarantee of an unforgetful musical evening.
On this festive and exciting occasion, Octavian Lazăr-Cosma, President of the Romanian Union of Composers and Musicologists, composers Liviu Dănceanu and Dan Dediu, Rector of the host institution, completed the musical programme with speeches upon this personality of the compositional field - Octavian Nemescu.
The fact that the idea of temporality can be transposed in the happiest way by music was felt in all three compositions performed within the concerto: the swing between static and mobile, the suggestion of a "suspended time" and a rapid accumulation of tension, Octavian Nemescu's music described the concept of Distance in a suggestive way, translating notions like Distance and Closeness in a spectral language. The increasingly rare sonorous elements, the original instrumental as well as vocal effects, the rotation of unison and ostinato moments on a background of pre-recorded sounds represented only a few coordinates of an original composition style, where elements of archetipal and electronic music are mixed.
The plays Trison - performed by percussionists Alexandru Matei and Sorin Rotaru, Beitsonorum and Finalis Septima - held by members of the "Archaeus" Septet were three phases of an artistical conception where, according to composer Liviu Dănceanu, gravity, purity and the pathetic are raised to the rank of moral values, crossing the path from sufference to trust, from darkness to light.
Alexandra Cebuc
Translated by Zenovia Popa
MA student, MTTLC, Bucharest University