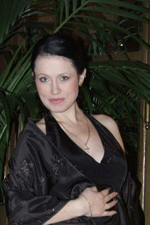 The Final Stage of the 'Masters of Lyrical Art' Competition
Wednesday, 31 March 2010 , ora 10.49

The bad news is that we are still "at the gates of the Orient" regarding some administrative aspects: the finals started with a 35 minutes delay and the Laureates Gala with only 20; there were some embarassing moments and even a few unintentional bursts into laughter when certain Special Prizes had been announced.
The good news is that the standard of the competition improved, reaching towards the quality of similar Western contests with greater fame and tradition, not by means of an increased number of competitors, neither by better international aknowledgement, nor by a higher value of the prizes, but by the contestants' distinction and the competence of the jury.
We know we have plenty of great voices and genuine talents in our country but even more remarkable was the significant improvement of some of the previous edition participants' technique and a stronger focus on style and artistical expression, in general.
All of the above fairly honored both the distinguished name of the competition, Masters of Lyrical Art, and the memory of this year's dedicatee, the prestigious soprano and eminent Professor Arta Florescu, whose guidance marked some of the most important generations of feminine voices.
Ironically enough, this edition, which pays homage to her memory, was dominated by... baritones, as they were awarded:
The Music Critics' Prize - Mihai Dogotari,
The Third Prize - Vasile Șerban and
The Second Prize - Florin Estefan.
The First Prize was won by a feminine voice, mezzo-soprano Maria Jinga, it is true, but she is a student of Georgeta Stoleriu, the most important rival in terms of vocal pedagogy, which Arta Florescu had during the last part of her career. What is really essential is that eight young musicians with real prospects reached the final, and the task to decide the hierarchy of the competitors was not at all easy for the jury.
It is definitely worth mentioning the support of the Bucharest Opera House, under the auspices of which this competition was initiated, and the contribution of its orchestra, conducted by Victor Dumănescu, a specialist in accompanying singing competitions.
Ligia Ardelean
Translated by Bogdan Prundeanu and Valentina Tache
MA students, MTTLC, Bucharest University