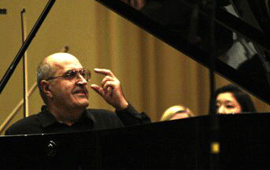 Pianist Dan Grigore at the National Theatre Conferences
Monday, 12 April 2010 , ora 9.22

Dan Grigore was invited to give a lecture during one of the National Theatre Conferences on Sunday, April 11th 2010. Starting with 2006, on the Black Box stage of the theater, cultural personalities like Neagu Djuvara, Dan C. Mihăilescu, Andrei Pleșu or Solomon Marcus have been invited.
In the intimate setting for the event - a little armchair and a torchère, a table with a big flagon of water and a piano - Dan Grigore sat in the dim-light and shared with us many of his recollections, anecdotes and he talked to us about what he considered to be really important for a pianist.
Dan Grigore started talking about his connection to the theatre, about the first play he had seen (A stormy night), about his memories concerning radiophonic theatre, and then he talked about what we all wanted to know: his experience as a pianist.
We found out that when was five or six years old he preferred to write small plays instead of practicing. He didn't like studying even later. We found out that all teenagers are rebels, even the ones who become famous pianists. Dan Grigore spoke with a lot of humor about the polemics he had had with his teachers regarding the dogmas which had been instituted, regarding the appropriate position, the right style of playing the piano and so on.
We had the opportunity of listening stories about pianists who had influenced his life in a way or another, such as Emil Gilels or Sviatoslav Richter, and stories about former colleagues from Leningrad, who are now famous conductors - Dmitri Kitajenko, Yuri Temirkanov...
Dan Grigore also talked about sound, tempo, about the importance of taking risks and about the score, which should be perceived as a map, not as the letter of the law. The conference was interlarded with memories and quotations about Eminescu or Caragiale, and with musical fragments by Chopin, Brahms, Mozart, Debussy or Bach.
Although the conference lasted two hours and a half, little did we know when time flew by. That is why even Johnny Răducanu, who was sitting in the front row, uttered a determined "Well done Dan!" at the end of the conference.
Andra Ivănescu
Translated by Ana-Maria-Nicoleta Mitrofan, Andreea Velicu
MA students, MTTLC, Bucharest University