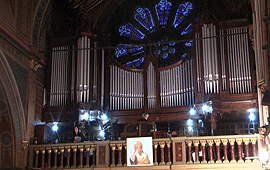 Inauguration of the restored organ of the Saint Joseph's Cathedral in Bucharest
Wednesday, 14 April 2010 , ora 9.36

For the first time in 50 years and after almost two years of restoration work, the Wegenstein organ in St Joseph's Cathedral presented with its whole variety of registers in a religious music concert that took place on Sunday, April 11th 2010.

Marcel Costea, organist of the St Joseph's Cathedral, has offered us technical specifications regarding the instrument, as well as other information:
«The Wegenstein organ in our Cathedral was built around the year 1930; 'Wegenstein und Söhnne' (Wegenstein and sons) is a company in Timișoara and one of the largest organs the company has built since it came into existence is the one in St Joseph's Cathedral in Bucharest. Ferdinand Stemmer is the one who was in charge with the restoration of the instrument; he has also built the organ of the National University of Music Bucharest.
What is special about our organ is the vibraphone register which is scored in 'harp' organ language. Of course, it has no connection with the instrument called harp, but this is how it was named, this is how it is listed in the glossary of organ registration. In fact, it is a vibraphone, but it is not operated by the sticks the percussionist uses but by an electro-pneumatic system, from the key, through those sticks that are electrically connected to the instrument. This is quite special because I have not heard of any other organ in Romania with such effect. In fact, there are a few organs that own such a register in the world.
And another interesting thing - the vibraphone was built in Chicago in 1903. There is a logo on the vibraphone.»

Will there be a concert season in order to present the newly restored organ?
Of course. Starting in autumn, we shall inaugurate a concert series with great organists from Romania, as well as from abroad.
Larisa Clempuș
Translated by Andrea Niculae, Andreea Velicu
MA students, MTTLC, Bucharest University