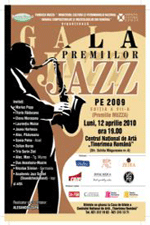 2010 Jazz Awards Gala
Wednesday, 14 April 2010 , ora 9.37

Monday, April 12th, the 2010 Jazz Awards Gala was held at the Romanian Youth Cultural Centre. Famous jazz musicians such as Zoltan Boros, Nicolas Simion and Marius Popp attended the event, as well as members of the new generation of musicians.
As a matter of fact, the new generation enjoyed a very special treatment this year. Each of the three award categories targeting younger musicians (Best debut, Best New Act, and Best Establishing Act) had three winners, all of them performing in front of the audience. The winners of the Best Debut award were: the young pianist Alexander Pădureanu, extremely talented though still inexperienced, the Sorin Zlat Trio and little Sonia Petra from Arad, whom at only 13 years of age proved a remarkable performing ability. For the Best New Act award, another young singer was revealed by the name of Elena Moroșanu, whom has already made a name for herself on the Romanian jazz scene. Guitar player Alexandru Man (who was joined on stage by Sorin Romanescu) and the duo Alex Anastasiu and Lucian Maxim claimed the other two Best New Act awards. The Best Establishing Act award was given to Joana Hartescu, from Brașov, the Funk Factory band from Iași - once named Academic Jazz Sextet or Soundcheck - and Laurențiu Moise, who held a short recital along with his quartet at the end of the show.
Aside from the performers, the gala also awarded Roland Szekely for Best Publicist, for translating the book "A History of Jazz" by L. Mason. The Manager of the Year award went to Laura Coroianu and Bogdan Enache for organizing the Diana Krall and Santana concerts, as well as the "Bucharest Masters of Jazz" festival, while "Soft Records" was awarded Record Label of the Year.
The most important awards of the evening, we believe were Album of the Year - which went to Marius Popp for "Semințe prăjite", Musician of the Year awarded to Florin Răducanu, Best Romanian Act Abroad won by Nicolas Simion and The Award for Excellence presented to Zoltan Boros, who upon receiving it gave the following speech:
"I do not feel that this is a great accomplishment. I feel I do not even deserve this prize as I have, in a way, betrayed jazz for a while. Not my soul but my actions, given that after 1990 I was tangled in other activities; I was Editor in chief at the Romanian Television Company. It would have been a struggle for me to be on stage as well as being a coordinator and manager. Hence, the fact that the music world has remembered me was a very pleasant surprise and today I felt wonderful being surrounded by so many young and amazing musicians".
Andra Ivănescu
Translated by Teodora Tănase, Andreea Velicu MA students, MTTLC, Bucharest University