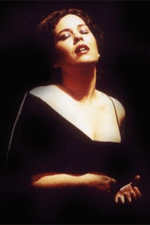 Serbian Lieder in the Cantacuzino Palace Hall
Monday, 12 April 2010 , ora 9.43

On the evening of April 8, 2010, composers from Romania and Serbia joined in a partnership protocol between the two institutions that represent them: on one hand, the Composers and Musicians Association in Romania, on the other hand, the Composers Association in Serbia. Soprano Katarina JovanoviŠ performed at the even, accompanied by Jasna TucoviŠ at piano.
The presence of the above-mentioned Serbian soprano was a pleasant surprise. Perhaps many of the readers are familiar with her from TV station Mezzo, where she could be seen performing on various occasions alongside pianist Bruno Fontain. The artist has completed her impressive studies at Guidhall School of Music in London, under the guidance of maestros like Robin Brownman, Christoph Eschembach, Dmitri Hvorostovski or Malcom Martineau, among others. On April 8, 2010, the artist performed together with Jasna TucoviŠ, another pianist, from Serbia as well, and their programme included Lieder from from their country and two specialized compositions by Dan Dediu.
Katarina JovanoviŠ has an extremely powerful voice and an incredible technique. She carries through breathtaking intervals, shrill notes or staccatos with the same easiness that Russian ballet dancer Mikhail Baryshnikov has when making a sequence of eleven pirouettes. An expressive voice, an impeccable technique and an undeniable sensibility. The part was carried out smoothly, without any breaks or interruptions. The interpretation of the Serbian soprano was, in turn, dramatic, pensive, melancholic or playful - as the part required. Her voice was correctly and fully supported by the pianist. The interpretation of the Lied composed by Ljubica MariŠ, The Enchantress was an impressive one. Although I confess did not understand a word, it is impossible not to get an idea of the emotions the character, interpreted by Katarina JovanoviŠ, went through. Once again, music proved a universal language which transgresses linguistic barriers.
The two offered an encore - Instrumental song by Ivana StefanoviŠ - after the long round of applause which rewarded their remarkable performance. The performance was meant to seal the signing of the partnership protocol between the Composers and Musicians Association in Romania and the Composers Association in Serbia respectively and was preceded by the short speeches of the presidents of the two institutions. A special evening which offered music lovers two very talented artists and a special repertoire.
Petra Gherasim
Translated by Sţnziana Mihalache, Andreea Velicu
MA students, MTTLC, University of Bucharest