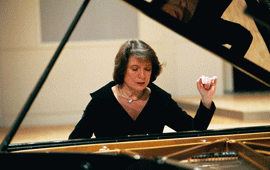 Elisabeth Leonskaja - Outstanding Performance of Johannes Brahms Concertos at the Romanian Athenaeum
Wednesday, 14 April 2010 , ora 9.57

One should not overlook the concert held on the 8th and the 9th of April 2010 by the George Enescu Philharmonic. Pianist Elisabeth Leonskaja on the stage of the Romanian Athenaeum has been a rare occasion to listen to the performance of a renowned international artist. Of course the repertoire allowed Elisabeth Leonskaja to prove her virtuosity and musical expressibility. The Russian pianist has performed the two Johannes Brahms' Piano Concertos accompanied by distinguished conductor Horia Andreescu.
Yet the pianist's performance can be hardly described in words. Forceful, fascinating, profound, dreamy, melancholic - that is how Brahms' concertos were expressed by Russian Elisabeth Leonskaja.
However, the artist should not be appreciated only for her excellent technique but also for the ability to perform at once such exhausting works. Johannes Brahms' concertos are difficult from a technical point of view and demand a total engagement of the instrumentalist. In spite of the genuine wish of the audience to listen to an encore was, her refuse was completely justified.
Of course the Concert Hall of the Athenaeum was crowded and the audience listened with reverence to the pianist who has been awarded at the George Enescu International Competition and who has performed on famous stages all over the world alongside with great artists such as Sviatoslav Richter, to give only an example.
First, a discovery produces confusing joy, then amazement and in the end generates the need of sharing the joy. Thanks to pianist Elisabeth Leonskaja, I have discovered a unique performance of the two concertos and I could not miss the opportunity to share with you this incredible experience.
Petra Gherasim
Translated by Georgiana Mîndru, Andreea Velicu
MA students, MTTLC, Bucharest University