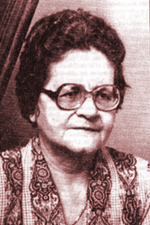 In memoriam Emilia Comișel
Sunday, 18 April 2010 , ora 12.01

Emilia Comișel, a venerable representative of Romanian ethnomusicology and greatly appreciated professor, passed away on morning of Sunday, April 18th, 2010, at ninetyseven years of age. As a folklorist, she gathered an impressive repertoire of Romanian songs (over 9000 pieces), putting together many valuable studies regarding the analytical, aesthetic and sociological characteristics of popular music in the Balkan area, as well as Canada and North America. As a close apprentice of scholar Constantin Brăiloiu, Emilia Comișel, reconstructed the intellection of the founder of ethnomusicology, by completely editing his work. Also, being an avid researcher, she took part in numerous International specialized congresses, becoming a member of such prestigious institutions as The International Folk Music Council - in London, International Musicological Society - in Basel, Société Française s'Anthropologie - in Paris, Asociația Culturală romȃnă "George Enescu" ­- in Montreal. For her achievements as an ethnomusicologist, Emilia Comișel was awarded with Orders of the State of Romania, the Romanian Academy Award, scientific creation awards as well as the Grand Award of the Romanian Composer and Musicologist's Association. For three decades, Emilia Comișel was an appreciated professor at the Romanian National Music University in Bucharest.

Octavian Lazăr Cosma: Romanian culture suffered a great loss when professor-ethnomusicologist Emilia Comișel passed away at a venerable age. She has been an important figure who gifted our country with many selections of folklore, popular songs, many publications and studies. Emilia Comișel was an outstanding professor at the "Ciprian Porumbescu" Conservatory and taught alongside other folklorists such as Mariana Kahane, Gheorghe Ciobanu and Tiberiu Alexandru; she illustrated the science of researching music as a rigorous discipline - proved by her course in folklore- and overall, it can be safely stated that she brought an important contribution to the better knowing our ancient musical heritage.

Alexandra Bădulescu: I had the chance to be taught by Emilia Comișel and her colleague Vasile Dinu, between 1960 and 1964. She was a person who fully mastered this noble endeavor of understanding folkloric art. The language she used would awaken in every one of her students, the desire to further this discipline which helps us grasp our ancient popular music, beginning with the oldest of genres - the carol, the mourning, the doina, the ballad - and on to the songs which appeared throughout our national history. Emilia Comișel was extremely close to her students and wished to work at making the most of the wonderful treasure which lies in the songs, dances and bearing of our national folklore.

Translated by Teodora Tănase, Andreea Velicu
MA Students, MTTLC, Bucharest University