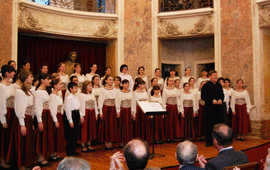 Children's Radio Choir in Concert
Wednesday, 21 April 2010 , ora 9.46

The Modern and Contemporary Snapshots Concert was held by the Children's Radio Choir on the evening of April 19th, 2010, at the Cantacuzino Palace Theatre. Planned by the National Choir Association and the Romanian National Composer and Musicologists Association, the event subscribed to the 2009-2010 "Paul Constantinescu" Season.
Upon opening the show, conductor Voicu Enăchescu, the president of the National Choir Association presented the special part of the concert - a choir conducting contest, part of the "From Apprentice to Master in Choir Conduction" organized by the National Music University and sustained with European structural funds.
The Children's Radio Choir was therefore conducted by young musicians such as Daniela Ion, George Bucur and Daniela Iordănescu. Dan Dediu, Stelian Olariu, Mihai Diaconescu and Voicu Popescu sat in the jury. Among the contestants, George Bucur stood out as the choir responded favorably to him while performing the piece "Festival Sanctus" by John Leavitt.
Alternating with parts of the contest were choir performances, conducted by Voicu Popescu, which presented the audience with Romanian pieces, as well as some from the international, modern and contemporary repertoire, such as parts by Irina Odăgescu, Paul Constantinescu, Dan Voiculescu, Felicia Donceanu, Doru Popovici, Alexandru Pașcanu, Pablo Casals, Bob Chilcott or Karl Jenkins. All the pieces were accompanied by pianist Camelia Chițibea.
The enthusiasm the children displayed upon performing this various and complex repertoire, their sensitivity as well as professionalism made for a wonderful concert, a true joy for the numerous audience present at the Cantacuzino Palace Theatre.
The following weeks of the "Paul Constantinescu" Choir Season will hold performances by the Symbol Choir, the Tomis Archdiocese Theodoxa Choir as well as the Prelude Choir.
Andreea Chiselev
Translated by Teodora Tănase, Andreea Velicu
MA students, MTTLC, Bucharest University