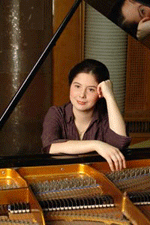 Alina Elena Bercu and Ilian Gârneț in Brussels
Friday, 30 April 2010 , ora 12.54

On May 3rd 2010, one of the longest and gruelling international competition : Queen Elisabeth International Performance Competition will begin in Brussels. During a promotional tour for the competition, on April 22nd 2010, an exceptional recital of the third place winner of the 2009 edition, the Moldavian violinist Ilian Gârneț and the piano player Alina Bercu, competitor in the 2010 edition, took place at Théâtre du Vaudeville in Brussels.
Sonata in La major D574 by Franz Schubert, in the beginning of the evening, was composed when the author was 20 years old like Alina is today. Named Duo by Diabelli in his first edition, the song remains a page full of lyrical turmoil and agitated characters even for a modern audience. The two young performers have given a humorous and lively interpretation of the score, creating an authentic panorama of moods, motions and sensations. The following song, Sonata op.27 no.3 "Ballad" for solo violin by Eugene Ysaÿe, which was played by Ilian Gârneț with a light-striking dexterity, in a fantastic tempo interlaced by short and graceful colourful stops, that are so resembling of Enescu's work. A single question was going through my mind endlessly : "Would this be Enescu in Ysaÿe's interpretation ?".The third song of that evening, The old style Suite by Alfred Schnittke was presented in a logical and clear, stylistic order ; the recital climaxed with an impeccable interpretation of "Carmen" Fantasy by Franz Waxman.
For the encore, Ilian Gârneț and Alina Bercu offered to the audience a less known arrangement of Hora staccato by Grigoraș Dinicu. Full of fiddler accents, the young interpreters have demonstrated ingeniousness even in this musical moment. This was the ending of a great show that will remain in the audience's memory for a long time.
Lucia Raevschi
Translated by Țone Monica Cristina, Andreea Velicu
MA students, MTTLC, Bucharest University