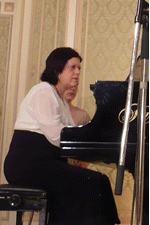 Tuesday Nights Performance Season
Wednesday, 28 April 2010 , ora 9.37

On the evening of April 27th, 2010, in the Small Theatre at the Romanian Athenaeum, another performance was displayed in front of a rather large audience, as part of the young musician's performance season. We had the opportunity to listen to recitals by four musicians: Mădălina Stan - soprano, Neli Niculae - soprano, Mihai Cojocaru - guitar and Lidia Butnariu - piano.
The repertoire was a diverse one: a potpourri of well known pieces by George Gershwin, Manuel de Falla, Fernando Sor, Ruperto Chapi, Geronimo Gimenez, and Fernando Obradors, which were performed alternatively by the two singers, accompanied by guitarist Mihai Cojocaru and pianist Lidia Butnariu.
Soprano Neli Niculae also performed the Habanera and the Seguidilla by George Bizet, while guitarist Mihai Cojocaru enchanted us with a solo from Two Venezuelan waltzes by Antonio Lauro.
Mădălina Stan graduated from the National Music University in Bucharest, canto class, under university lector Roxana Toader. She then went on to pursue a master's degree. Also she studied with Denyce Grace, Leontina Văduva, Cecilia and Dan Mizrahy. She held concerts and recitals in Romania, Italy, Spain, Austria, Deutschland, Lichtenstein and Bulgaria. She collaborated with many renowned artists such as Pompeiu Hărășteanu, George Emil Crăsnaru and Vladimir Deveselu. As a Symphonic vocal singer, Mădălina Stan performed under the guidance of orchestra conductors such as: Cristian Mandeal, Jin Wang and Iosif Ion Prunner. In 2007 at the George Enescu International Festival, she appeared as lead vocalist for Missa de Bernstein, conducted by Wayne Marshall.
Neli Niculae graduated from professor's Sanda Șandru's class at the National Music University in Bucharest. She won several awards at national performance contests in Ploiești and Timișoara as well as the Darlee Festival - Contest in Pitești. As of 1996, she is the lyrical performer for the George Enescu Philharmonic Choir. She appeared in concerts organized by the Romanian Radio Company and the George Enescu Philharmonic and has held many recitals in Deutschland and Great Britain. In 2005, Neli Niculae took part in the series of concerts organized at the World Exposition in Aichi, Japan.
Guitarist Mihai Cojocaru was born in 1977 in Bucharest. He studied guitar with Professor Liviu Georgescu at the George Enescu Musical High School, later moving on to work with Gerhard Reichenbach at the Franz Liszt Hochshule für Musik in Weimar, Germany. He has won national and international music contests (the music Olympic contests in Sinaia, Craiova and Bucharest) and has appeared on many Radio and TV shows. As solo performer, Mihai Cojocacu played with the Satu-Mare and Bacău Philharmonics in shows held in Bucharest, Arad, Cluj, Constanța and Weimar.
Pianist Lidia Butnariu has graduated the piano class at the National Music University in Bucharest. She studied with musical masters such as Dan Grigore and Sandu Sandrin and held recitals in Bucharest, Brașov, Brăila, Bacău and Timișoara. As of 2007, she is main accompanist at the National Bucharest Opera and since 1992 she is a professor at the National Music University. In 2003 she was named official pianist for the Musical Holidays project in Piatra Neamț, and in 2004, for the Rusalka project in Sibiu.
The two sopranos, Mădălina Stan and Neli Nicuale gave us a wonderful performance, which despite some insignificant mishaps, brought forth the amazing qualities of the two singers: well anchored voices, sensitivity, musicality and interpretations true to the style of the presented pieces.
Mihai Cojocaru held an exceptional solo; the young musician displayed great emotion in playing the two Venezuelan waltzes. Lidia Butnariu elegantly sustained the harmony for the two sopranos, completing a wonderful April evening at the Small Theatre of the Romanian Athenaeum, filled with applause and bouquets of flowers...
Adriana Nițu
Translated by Teodora Tănase, Andreea Velicu
MA students, MTTLC, Bucharest University