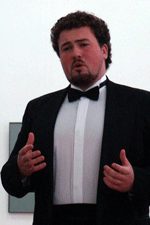 Tenor Ștefan Pop, awarded at Operalia
Monday, 3 May 2010 , ora 10.27

On Sunday, May 2
nd
2010, young tenor
Ștefan Pop
won 1
st
prize in Placido Domingo's prestigious World Opera Competition, Operalia. The contest was held at the Scala Theatre in Milan, where Ștefan Pop received a 30.000 dollar 1
st
prize and the prize of the audience. The winner in the "feminine voice" competition was Bulgarian soprano Sonya Yoncheva.
The Romanian artist's success came right after last week's event: The Seoul International Music Competition, where Ștefan Pop won a 52.000 dollar 1st prize.
In 2006, Ștefan Pop graduated from the Music High School in Bistrița, and he is now a student at Gheorghe Dima Music Academy in Cluj-Napoca.
Here are some other prizes he won: The Foundation Prize at Sigismund Toduță International Canto Competition (2007), the prize for the youngest performer at Hariclea Darclée International Voice Competition (2007), 2nd prize at "Sabin Drăgoi" International Canto Competition (2007), Grand Prize at Marțian Negrea National Competition in Ploiești (2008), Steliana Calos Special Prize for vocal performance at the Annual National Contest of Lied Performing, Ionel Perlea.
As a solo artist, in 2008, he collaborated with The Romanian National Opera in Cluj, where he performed Otello by G. Verdi, alongside Marius Vlad Budoiu and Carmen Gurban, Ștefan Ignat and Sorin Lupu.
In the next issues of Musical Bulletin, we promise to give you an exclusive interview with the artist about his recent success.

Translated by Andra Stroe, Andreea Velicu
MA students, MTTLC, Bucharest University