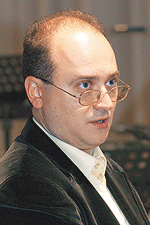 The rest is music... Dan Dediu and his guests at The Romanian Cultural Institute in Bucharest
Tuesday, 4 May 2010 , ora 10.38

You may remember Dan Dediu's suggestive musical shows broadcasted on TVR Cultural. The conference series named The rest is music, an ingenious Shakespeare paraphrase, wishes to complete those shows and offer an opportunity to those interested to know the history of the sound phenomenon, providing a direct contact between the audience and the speaker.
On Friday, April 30th 2010, the Main Hall of the The Romanian Cultural Institute in Bucharest was filled by an heterogenous audience, that followed Dan Dediu with great interest in his journey over 1000 years of music, that spread over The Middle Ages and even The Renaissance. And since no theoretical musical journey cannot exist without the actual music, the soft moments provided by Psalmodia and Musica sacra ensembles, flutist Adrian Buciu and also Claudiu Lobonț playing the theorbo perfectly completed the organizer's concept.
I insist upon the great benefit of this direct contact between the audience and the commentator, and even the performers - why not? - because in this way the attention and interest of the beneficiaries are more effectively attracted. Furthermore, at the end of the conference Dan Dediu promised that next time he will have a dialogue with the audience.
It is almost needless to underline Dan Dediu's storyteller qualities and the ingenuity with which he associates ideas from very different fields of activity - a very lively and enquiring mind that searches with a lot of charm the universal musical history. If you can attend the following conferences that will continue throughout the year, you surely won't regret it.
Ioana Marghita
Translated by Țone Monica Cristina , Andreea Velicu
MA students, MTTLC, Bucharest University