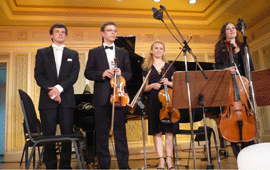 Tuesday evening season
Wednesday, 5 May 2010 , ora 11.45

The evening of the day of May 4
th
2010 from the Small Hall of the Romanian Athenaeum promised to be special since the outset, given the large number of spectators, who hurried to take their seats in the hall. The young pianist
Mihai Ritivoiu
held a recital that included the Italian Concert BWV 971 by Johann Sebastian Bach, Sonata op.57 in F minor Appassionata by Ludwig van Beethoven, Prelude, Coral and Fugue by César Franck and L'isle joyeuse by Claude Debussy, then together with his guests: Alexandru Mălaimare - violin, Liliana Mitulescu - violin and Alexandra Potângă - cello, Piano Quartet in A minor by Gustav Mahler.
Mihai Ritivoiu studies the piano at the Music High School George Enescu, in the final school year, under the guidance of the teacher Gabriela Enășescu. Also, he took part at master courses of pianists and educators, like Dmitri Bashkirov (within the Summer Academy from Salzburg, Austria, 2007), Viniciu Moroianu and Gabriel Amiraș. The pianist won the 1st prize at international contests Jeunesses Musicales (Bucharest 2006), 'Maryse Chélian' (Hyères, France - 2003), 1st prize and special prize for the best interpretation of a classical sonata (National Music Olympics - Arad - 2006), 2nd prize at the international contest from San Sebastian (Spain - 2005) and Carl Filtsch (Sibiu, 2002), 1st prize and the CMF Prize at the Music Contest of France (Paris, 2002).
The young pianist Mihai Ritivoiu held recitals at Sibiu - Thalia Hall, at the George Enescu Museum in Bucharest, and in 2007 was the soloist of the Lyceum Strings Orchestra on the stage of the Romanian Athenaeum. He participated to the broadcast Today musicians, tomorrow musicians… from Romanian Cultural Radio in 2002, 2003, 2005 and 2006.
Being fond of composition, since 2006, the young musician studies the composition and the harmony with Professor Valentin Petculescu.
Now, he has a scholarship within the programme SoNoRo - Interferences 2008.
The recital of the young pianist Mihai Ritivoiu from the Small Hall of the Romanian Athenaeum brought to the public's attention an artist eager to express himself. An artist who has a sound technique, musicality, safety and strength, that, once with accumulating experience, will complete his artistic personality. Together with the three guests, he interpreted the Piano Quartet by Gustav Mahler, thus the public enjoyed other great moments. This encourages us to hope the future will be favorable and encouraging for young talents, that, we have the opportunity to listen to on the Small Hall stage of the Romanian Athenaeum, within the Tuesday evening Season...
Adriana Nițu
Translated by Zenovia Popa, Andreea Velicu
MA students, MTTLC, Bucharest University