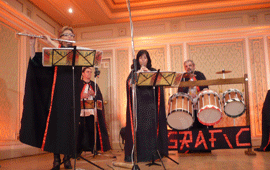 The Tuesday Evening Season
Wednesday, 12 May 2010 , ora 9.59

The evening of May 11, 2010 was a very special one. The Small Hall of the Romanian Athenaeum hosted The Tuesday Evening Season, a concert of the Graphic Ensemble, consisting of musicians from Arad, Cluj and Timisoara, teachers altogether with students from the Academy of Music, that offered us an unforgettable evening of Medieval and Celtic music. So, we could listened to Diana Brădean - mezzo-soprano and percussion, Corina Ardelean - flute, Ana Sapcu - oboe, Marcel Sapcu - blockflote soprano and sopranino, percussion, Doru Tebuie - blockflote alto and bass, Benjamin Condor - percussion, Cristian Sapcu - bass and Sandu Ardelean - percussion.
The band has been playing old medieval music since 2002, before tackling other genres of music: contemporary, classical, jazz. Since 2006, besides medieval music, their repertoire has been enriched with old Celtic one. Concerts are held in Renaissance costumes and the musical pieces come to life by personal arrangements.
The recital from the Small Hall of the Romanian Athenaeum included folk Scottish and Irish dances, Celtic medieval songs, ballads, and a Serb-Croatian dance. The program, which was very varied, revealed the beauty of the ballads alternating with the vivid rhythms of the folk dances.
Homogeneity of the ensemble, Diana Brădean`s awesome mezzo voice, exceptional interpretation by re-creating the original "style" of the music, altogether with scenic movement, all of these helped them create a special atmosphere so that when the recital ended, the audience was unable to leave atmosphere and stayed on, waiting for the band back on stage. But the modesty of these very special artists was obvious.... and unfortunately the spell was broken, to the regret of those who lived an hour of music lesson from other times...
Adriana Nițu
Translated by Alinda-Gabriela Guțu (Ivanov), Andreea Velicu
MA Students, MTTLC, Bucharest University