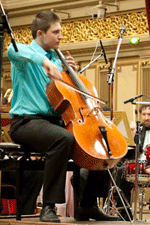 Cellist Ștefan Cazacu at the semi-final of Eurovision Young Musician contest
Tuesday, 11 May 2010 , ora 11.42

Sunday, May, 10,2010 the jury of Eurovision Young Musician announced the results of the semi-final, which took place in one of the Austrian Broadcasting Corporation ORF studios.
Romania was represented by the young and talented cellist Ștefan Cazacu, 16 years old, student at George Enescu High School in Bucharest, laureate at various international competitions from Croatia, Austria and Romania. Unfortunately, Ștefan was not one of the seven candidates for the final contest; these were the Croatian Filip Merèep (marimba), the Norwegian Guro Kleven - Hagen (violin), the Polish Bartosz Głowacki (accordion), the German Hayrapet Arakelyan (saxophone), Ivan Karizna from Belarus (cello), Eva - Nina Kozmus from Slovenia (flute) and the Russian Daniil Trifonov (piano).
I kindly asked Șefan Cazacu to share some of his thoughts to Radio Romania Musical listeners and here is what we found out: " It is a further step in my experience; I listened to the seven finalists and all of them seem exceptional from my point of view. I am not upset that I have not succeeded in being admitted as a finalist, but I hope I will represent Romania again in two years. It is the first time I am here in Vienna. It is a beautiful city and everybody told me it was worth visiting it. And now I am here and I am very happy indeed. The contest organization was absolutely perfect."
Eurovision Young Musicians final will take place on May 14th , 2010 in front of City Hall in Vienna, where the public is expected to be no less than 45,000 persons. Austrian viewers can vote via SMS for the Popularity Award holder and contest prizes will be designated by an international jury chaired by composer, conductor and teacher Peter Eötvös from Hungary. The event aims to show the fluid boundary between classical music and the great audience, a show by young performers who can attract a young audience and a repertoire which is a "mixing up" classical genres, pop and the so-called "new music". You may note that even the selected instruments for the final on May 14, are both classical instruments, including piano, cello or violin, but also instruments that were specific for folk and pop music, such as saxophone, accordion and marimba. These instruments increasingly draw composers and managers that interested in new sounds resources to get closer to the demands of today's audience.
Haiganuș Preda Schimek
Translated by Alinda-Gabriela Guțu (Ivanov), Andreea Velicu
MA Students,MTTLC, Bucharest University