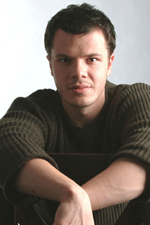 Eugen Brâncoveanu in recital at San Francisco
Wednesday, 19 May 2010 , ora 11.31

As described by The San Francisco Chronicle, Eugen Brâncoveanu, the young baritone of Romanian descent is "with such an innately theatrical gift that even a song recital becomes an exercise in musical dramatics".
Indeed, the recital he performed on Sunday May 16th 2010 at The San Francisco Conservatory, accompanied by the pianist John Parr, was a stylistic exercise and a creativity lesson and also an attempt to stand among the greatest.
With its profound and sombre timbre, he has perfectly interpreted the desperate and tragic emotion of the Russian composer Georgi Sviridov's songs. It is quite admirable the easiness with which he made the transitio from one universe to the other.
The recital has climaxed with the famous lied Erlkönig by Schubert and with the character Don Quichotte from La chanson à boire by Ravel, performed with both derision and nobility. His dynamic and storytelling talent managed to revive even the work of Carl Loewe, Schubert's long forgotten contemporary, whose interpretation fascinated the audience who repaid the performer with a standing ovation.
Alexandra Diaconu
Translated by Țone Monica Cristina, Andreea Velicu
MA students, MTTLC, Bucharest University