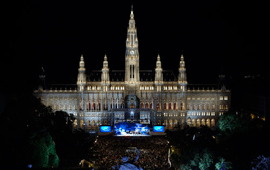 The Eurovision Young Musician Contest Final from Vienna
Wednesday, 19 May 2010 , ora 9.40

Along with the final Eurovision Young Musicians contest from May 14, 2010, the Wiener Festwochen Festival, which is held each year in the Austrian capital between May 14 and June 20, was also opened. The six selected candidates played on a stage that was placed in front of the City Hall of Vienna, that specific area which has become a symbolic space of the city, as the traditional December Christmas Fair is hosted here and it is one of the most visited sightseeing spots in Vienna.
The concert with free admission, broadcasted on numerous television channels, clearly wanted to capture a wide audience and to convey an image of contemporary Vienna, that wished to remain a city of music, a hub of international trade, and least but not the last, an open door to the musical traditions of Eastern Europe. The jury, chaired by Peter Eötvös from Hungary, decided that the winner of this edition was flutist Nina Eve Kozmus from Slovenia, followed by violinist Guro Kleven Hagen from Norway and pianist Daniel Trifonov from Russia.
Wonderful lit, the scene captured the large audience in Town Hall Square by a brilliant performance, due to the excellence of young performers, compelling music, blending elements of classical genre, from jazz, film music and the variety one. Ended with the Polonaise brilliante , playedby Daniel Trifonov, the concert was also, indirectly, a tribute to composer Frederic Chopin, whose 200 years from his birth have been celebrated this year.
Haiganuș Preda-Schimek
Translated by Alinda -Gabriela Guțu (Ivanov), Andreea Velicu
MA Students, MTTLC, Bucharest University