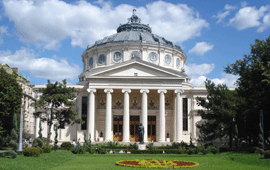 The Tuesday Evening Season
Wednesday, 19 May 2010 , ora 9.43

A new concert from The Tuesday Evening Season was held Tuesday, May 18th, 2010, at the Small Hall of the Romanian Athenaeum, the recital being organized in partnership with the Foundation Friends of Music - Serafim Antropov. Protagonist: a young cellist Andrei Ioniță, accompanied by Raluca Cimpoi-Iordachi, on piano.
Being only 16 years old, Andrei Ioniță has already been remarked in numerous national and international competitions, while having a rich interpretive work as a soloist and as a member of the quartet Cellissimo Junior founded by Marin Cazacu.
In the evening program there were two reference works for cello repertoire: Sonata No.1, E minor op.38 by Brahms and Sonata, Shostakovitch - Sonata, D minor op.40.
The first one offered Raluca Cimpoi- Iordache the opportunity to demonstrate that the role of the piano in a chamber ensemble is much more than mere accompanist. Andrei Ioniță managed to emphasize dramatic expressiveness in Brahms` sonata, proving a powerful interpretation, but full of tenderness.
Sonata for cello and piano by Shostakovitch required precision from the artist in the fragments of virtuosity and variety of dynamic contrasts. In addition, Andrei Ioniță emphasized the vibrant sound of the cello along the length of the instrument and, not least, he offered the music that drop of power and energy which is the signature of a valuable interpretation.
Qualities such as musicality and technical precision were not gone unnoticed by the public, young Andrei Ionita playing two encores at the end: Piece en forme de Habanera by Maurice Ravel and a Sulkhan Tsintsadze piece, in Georgian folk character.
Andreea Chiselev
Translated by Alinda-Gabriela Guțu (Ivanov), Andreea Velicu
MA Students, MTTLC, Bucharest University