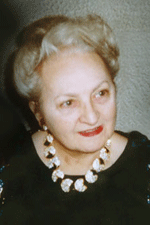 In memoriam Yvonne Loriod
Thursday, 20 May 2010 , ora 9.47

On Monday, May 17th, 2010, French pianist Yvonne Loriod passed away at the age of 87. Virtuous by nature, Yvonne Loriod was the muse of her famous husband, composer Olivier Messiaen, who dedicated all of his piano compositions to her since 1943. Due to his extraordinary memory and impeccable technique, Messiaen was able to use any kind of tricks in his compositions, as he knew very well that they would pose no problems to his wife.
The two of them met while Yvonne was a student at the Paris Conservatory, and Messiaen, who had just been released from a concentration camp - was a teacher there. It is also very important to mention that Yvonne excelled at her performance of "Martenot Waves", which determined Messiaen to write songs for this instrument.
After the death of her husband, in 1992, she dedicated her life to editing a number of his posthumous works. Towards the end of her life, she frequently told people who interviewed her that she wished for a peaceful death, so she could be with her husband again.
Petra Gherasim
Translated by Andra Stroe, Andreea Velicu
MA students, MTTLC, Bucharest University