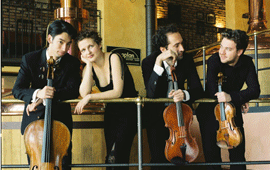 Raro Ensemble at Musikverein in Vienna
Wednesday, 19 May 2010 , ora 10.17

The founder of the Raro Ensemble, violist Răzvan Popovici, initiated and hosted an original music performance on Sunday, May 16th 2010 at Musikverein, in the capital of Austria. The recital took place in one of the new rooms of the complex designed for modern chamber concerts, namely the so-called Glass Hall. It was a special performance held by the Raro Ensemble with ingenuity and backbone, inspired by Mikhail Bulgakov's The Master and Margarita.
Pianist Diana Ketler, born in Latvia and member of the Raro Ensemble, wrote in the concert programme: 'The Master and Margarita is such a complex book that one may find it difficult to choose the appropriate music. Apart from the Russian composers who were somehow near at hand, we thought of unconventionally including tango music.'
Therefore, the Raro Ensemble painted in colours of the Argentinean tango all the 'insomnias, anxieties, fears, and demonic forces' and used a bandoneón, an instrument similar to the accordion. Among the musicians of the ensemble, young artists who studied in musical centres from Germany and England, was also the Romanian double bassist Petru Iuga, who has won several international awards and is a teacher at the Mannheim University of Music, as well as the Argentinean bandoneónist Marcelo Nisinman.
The literary fragments were read out loud by Karl Markovics, an Austrian actor, famous for his title roles in several TV series and the main character in The Counterfeiters which won the Academy Award for the Best Foreign Language Film in 2007. Markovics managed to 'inflect' with great virtuosity the characters' remarks in The Master and Margarita which contributed to the success of the whole performance. Due to the repertoire carefully chosen by the Raro Ensemble, the recital proved to be an exquisite one. We listened to works by Dmitri Shostakovich and Sergei Prokofiev as well as to Astor Piazzolla's music and the original works by Marcelo Nisinman which recreated the surreal atmosphere, the bitter-tongued humour, as well as the bizarre poetry of Mikhail Bulgakov's book.
Haiganuș Preda-Schimek
Translated by Georgiana Mîndru, Andreea Velicu
MA students, MTTLC, Bucharest University