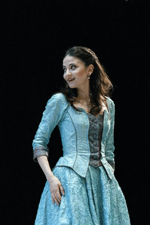 Teodora Gheorghiu at Vienna's State Opera House
Monday, 31 May 2010 , ora 13.58

Friday, May 28th 2010 we enjoyed the opera The Italian Girl in Algiers by Gioachino Rossini performed on the stage of Vienna's State Opera House, put on stage by the Frenchman Jean-Pierre Ponnelle. The cast consisted of Ferruccio Furlanetto and Silvia Tro Santafé - the leading roles, alongside two young soloists of the Ring's theatre, well known to the Romanian opera audience: Teodora Gheorghiu (as Elvira) and Roxana Constantinescu (as Zulma). Soprano Teodora Gheorghiu graduated the canto class of the Musical Academy in Cluj and, following her many successes in the Queen Elizabeth competition in Bruxelles and George Enescu in Bucharest, managed to become well known on the international stages. She debuted in Vienna in 2004.
Despite having a delicate figure but a great vitality and ability to stand apart through a body language suitable to the role, Teodora was entrusted Elvira's score. It is a leading role, but not as difficult or important for the opera as those interpreted by the brilliant burlesque couple Furlanetto-Santafé. Teodora Gheorghiu was drawn into the humorous situations of the opera, into the dialogues, the responses and in the numerous larger performances, in which she supported the leading voice on several occasions. She had a clear voice and she found the right proportion between 'spiritual' and 'graceful', as put into the rococo aesthetic terms, that are closely related to the buffa opera genre.
Browsing through the programme I have noticed a short observation related to the cities where the opera The Italian Girl in Algiers was performed shortly after its premiere in 1813 (at the Teatro San Benedetto, Venice). Bucharest is among those cities mentioned there. Indeed, Johann Gerger troupe from Brasov, that toured Romania's larger cities in those times, had in its repertoire the opera The Italian Girl in Algiers among others and it was performed in the opening of the Bucharest season in August 1818. Then, as now, the circulation of the artists was free, and Rosinni's opera - fuzzy and effusive - discovered here not only a great response from the audience, but also talented artists that are able to perform it on stages and casts of international fame.
Haiganuº Preda-Schimek
Translated by Þone Monica Cristina, Andreea Velicu
MA student, MTTLC, Bucharest University