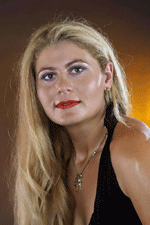 Ioana Maria Lupaºcu's recital at Brancoveanu Palace in Mogosoaia
Monday, 31 May 2010 , ora 13.59

Ioana Maria Lupaºcu, a pianist who studied at the Conservatory in Bucharest, Lausanne and the European Music Academy in Italy, performed a piano recital dedicated to the bicentenary of composers Frédéric Chopin and Robert Schumann, within the second edition of the Season Music at Brancoveanu Palace in Mogosoaia, on May 30th 2010. For one hour, we had the opportunity to virtually travel in the past, up to the 19th century, when the genius - doomed to a tragical destiny - was regarded with admiration and reserve at the same time.
The works selected by the pianist Ioana Maria Lupaºcu from the creation of the celebrated composers, shaped two different situations, yet complementary from the point of view of the music language, of human suffering: the technical virtuosity interweaved with feelings like the internal torment and the meditative resignation in Polonaise op. 26 no. 2 in E flat minor, Andante spianato and Grande polonaise brillante op. 22 by Frédéric Chopin, while Vienna Carnival by Robert Schumann rendered, through a series of musical sketches, an entire range of feelings, from bitterness and serenity to uncertainty and hope.
If we are to sum up in one word the musical afternoon spent at Mogoºoaia, then this would be 'contrast': timbre, suggested by two plans - 'fixed ideas' in ostinato from the grave register of piano and the melodious expressiveness in acute register, reminding the childhood candour - but also the grave message of Romanticism music and public enthusiasm to have assisted to a prestigious musical event.
Let us read what her presence in such a place meant for pianist Ioana Maria Lupaºcu in her own words:
'I felt very well in this place, last year I listened to recitals at the Season Music at the Brâncoveanu Palaces . Now it was my first opportunity to perform at Mogoºoaia, and from the point of view of the repertoire, I can say it was a premiere - we sang the music of the two composers celebrated this year an, Frédéric Chopin and Robert Schumann for the first time in front of an audience. On this occasion, I enriched my repertoire with an experience that I have lived so far only in private, at home, during my study. The piano I played is a very good instrument, very equal, that does not 'scream', it can render different timber colours, delicate and it helps the pianist.'

Can one make a parallel between the two musical languages, Chopin's and Schuman's?
«Although both composers are representatives of Romanticism, their music is different - Chopin is a dreamer and an introvert, while Schumann is full of passion; and there is also what I can feel as pianist: the fact that he was sick can be noticed in his work, in the brilliant way he 'runs' from one idea to another; this torment is reflected in his music.»
Alexandra Cebuc
Translated by Zenovia Popa, Andreea Velicu
MA students, MTTLC, Bucharest University