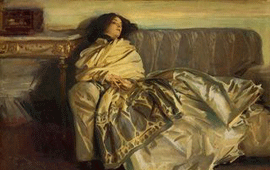 The musical contest Timisoara Festival came to an end
Wednesday, 2 June 2010 , ora 10.58

The thirtieth edition of the International Feast called Timisoara Festival ended up on Sunday, May 30th, with the opening of a new setting of Verdi's masterpiece La Traviata. Music and stage design belong to the Italian artists who collaborate frequently with the Romanian National Opera in Timisoara. I am referring to conductor David Crescenzi - permanent guest for about a decade - the Orchestra and Choir conducted by him sounded accurately and the soloists have benefited from an accompaniment carefully balanced in intensity, with carefully chosen tempi. Although he used the traditional cuts in the score (except for Alfredo's cabalette which was kept), the conductor has built a modern sound and fluent speech, avoiding outdated sweetening and melodramatic effects.
Art production, scenes and costumes were designed by Mario de Carlo, La Traviata being the sixth setting he performed on stage in Timisoara in the last four years. On a unique scenographic structure to which decorative elements were added or changed from one scene to another - lights were also cleverly used to differentiate frames- everything was conducted in harmony with the age and music of the score in a logical unit design.
Among the soloists that were present in the cast, the ones that distinguished themselves were Ramona Zacharias - Flora singer, Cristian Rudic - Marquis, Octavian Vlaicu - Baron, but especially baritone Dan Pataca - a father Germont with a lyrical voice, intelligent phrasing and good taste. A questionable taste - or rather, immature, succumbing to the temptation to achieve success by means of certain mannerisms copied from here and there - has shown the very young interpreter of Alfredo Germont, namely tenor Stephen Pop, from Cluj.
His singing technique is not yet consolidated, but his voice quality is bright, with spinto accents - very convincing in the second act and the third scene cabalette - his performance certifies acting instinct and real talent. Stefan Pop won thismonth the first prize and the audience prize at the Placido's Operalia Contest, then successfully played the role of Alfredo Germont on the State Opera in Vienna, where several years ago soprano Tatiana Lisnic, from Moldavia, remarked herself on the international stage.
On May 30th 2010, she was a beautiful Violetta Valéry, experienced, with a controlled and refined voice, rich in harmonics, yet not quite quick for the melody of the first act, having certain difficulty - perhaps instantaneously -when it came to the acute register and the pronunciation with a strong Moldavian accent.
Despite the imperfections, it was a good and vibrant show, conceived in respect to the score and contemporary public demands alike.
Ligia Ardelean
Translated by Loredana Matei, Andreea Velicu
MA students, MTTLC, Bucharest University