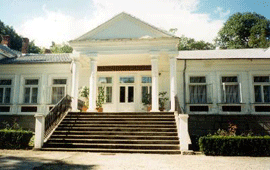 The Little Music Lover's Lesson in Tescani
Tuesday, 8 June 2010 , ora 10.19

We have many times spoken about the Enchanted Forest. I have forgotten to ask you how do you picture this forest? Is it one full of huge trees, or perhaps one in which there are many small glades, just perfect for our elves' walks?
If you have not yet made an impression about its look (although I do not think there are too many that have not pictured it, even for one moment), it would be best for you to visit the Rosetti Tescanu-George Enescu Cultural Centre from Tescani. The forest that guards the manor house is alike our Enchanted Forest: quiet, full of imposing trees, with paths that guide your steps and the harmonious sounds that reign over all these.
In the Rosetti Tescanu-George Enescu Cultural Centre the two elves met on June 4th 2010 the little music lovers, pupils at the George Enescu General School from Tescani. The maestro's piano, his scores and the paintings were of a real help for the two, in their attempt to carry the children into the wonderful world of sounds. They met the wizard's apprentice (that might have actually been Tony Tinytone...), the one who used the magic formula stolen from his master, in order to acquit of carrying water. Then, the two elves tried to help him to deter the water from flooding the whole house, but it was impossible to do so. Eventually, they run away because the powerful wizard came and they got scared at the thought that they would share the same fate with the apprentice.
The only problem is if all these really happened or this was a mere hoax of Pocchettina. Might all these spellings have been made by the skilful elf just to make fun of Arrieta? I do not know for sure.
All I can tell you, though, is that all the present children had understood what had happened with the wizard's apprentice, who was Paul Dukas and, most of all, why did Arietta and Pochettina travel precisely from the Realm of sounds, there in George Enescu's house.
Simona Tănascu
Translated by Neculai Cristina, Andreea Velicu
MA Students, MTTLC, Bucharest University