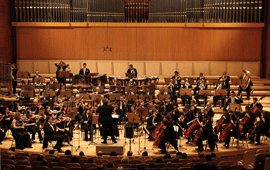 Christian Badea, once again at the National Radio Orchestra's music rack
Monday, 7 June 2010 , ora 10.25

A new musical event took place in the evening of June 4th 2010 in "Mihail Jora" Studio. Why did the concerto performed by the National Radio Orchestra's members constitute the reason for which a large audience chose the programme consisting of the works of Johannes Brahms, Piotr Illici Tchaikovsky and Diana Rotaru- a name in the public eye that remarked herself from among the new generation of composers? Some clues in this regard could be the presence of Christian Badea at the conductor's music rack, but also the colaboration between the violonist Alexandru Tomescu and the cellist Filip Papa- member of the well-known "Ad Libitum" Quartet.
The whole musical night was characterized by some sort of introvert sensation: from Johannes Brahms' Concerto in A minor for violin, cello and orchestra-in which the two instrumental soloists have imitated and completed each other in a representative speech-to Händel-Halvorsen's Passacaglia baroque relief, played twice by Alexandru Tomescu and Filip Papa or to the discreet pathos from Piotr Ilici Tchaikovsky's Symphony VI, the audience showed its appreciation through enthusiastic cheers.
Within this context, Diana Rotaru's work for orchestra- Corals and music boxes- replenished the gloomy, quasi-dark atmosphere of the programme through oscillating sonorities from calm melancholy to intensity bursts- suggested by the dissonances, ostinato rhythmic formulas and tempo contrasts. If the legendary box of Pandora from the Greek mythology had been a musical box, the sonorities hidden in it would probably have resembled to some extent this composition, in which there is but a step between purity and fret.
Alexandra Cebuc
Translated by Neculai Cristina, Andreea Velicu
MA Students, MTTLC, Bucharest University