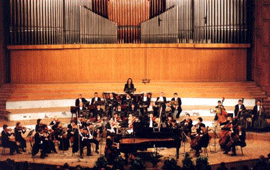 Two first auditions, in the interpretation of the Radio Chamber Orchestra
Friday, 11 June 2010 , ora 14.03

A Wednesday evening and a not-too-large audience, but eager to assist to a new concert scheduled at the Mihail Jora Studio - this was my first impression with respect to the programme offered by the members of the Radio Chamber Orchestra in the evening of June 9th 2010 - programme comprised of two musical pieces performed in full Romanian first audition. Marked out by the conductor Amaury du Closel, already known by you, the operas included in the programme were Ernst Toch's Dance Suite Op.30 and Viktor Ullman's chamber opera the Emperor of Atlantis, whose soloists were five French musicians.
What did the two musical pieces had in common- besides the aura of mystery and tragedy given by the message directed against the Holocaust ? A permanent fluctuation between the dark atmosphere given by the presence of death and the trust in life- feelings highlighted mostly within the harmonic sounds. At the same time, the sinuous character of the bleak interpretation of Ernst Toch's Suite Op.30 had continually interlaced with timbre contrasts, the distance between the flute's sound in the high reed and the double bass' in the low reed, being a mere example on this line.
The daring burlesque which pointed to the political situation during the Holocaust, Viktor Ullman's opera the Emperor of Atlantis, amazed the audience both through its modern timbre effects- the composer includes into the score the usage of a voice tube- and through the obsessive ostinate formula backed up by the low strings and subsequently undertaken by the other parties of the orchestra. The melancholy, as well as some romantic accents had "blazed up" in a Waltz at the end of the musical piece - at first exalted, and then hesitant - such as a bright memory of an already forgotten time.
Alexandra Cebuc
Translated by Neculai Cristina, Andreea Velicu
MA Students, MTTLC, Bucharest University