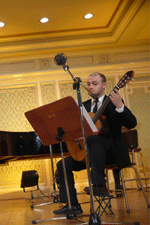 Tuesday evening season
Wednesday, 9 June 2010 , ora 14.05

The small hall of the Romanian Atheneum hosted on Tuesday, June 8th 2010, a violin recital, performed by Corina Crețu Mitroi. The young musician, member of the Orchestra of the George Enescu Philharmonic , invited Clementina Ristea Ciuciu - piano, Mihai Cojocaru - guitar and Vlad Silaev - contrabass.
The programme included Sonata no.1 A minor and no.6 A major, both for violin and guitar by Nicolo Paganini, Sonata op.8 nos 4 and 5, in E flat major, and G major, for violin and contrabass by Joseph Haydn, Sonata for violin and piano by Claude Debussy, The Chinese Tambourine by Fritz Kreisler and Study in the Form of a Waltz by Camille Saint-Saëns/Eugene Ysaÿe.
It was quite a difficult repertory, the gaps and uncertainties did not lack, but the audience appreciated the young instrumentalists striving and applauded generously, even between sonatas.
The violin player Corina Crețu Mitroi has a real technical as well as interpretative potential, but she was not up to her talent, at least this is what we felt during the recital. In other words, it could have been better. But who knows? Perhaps she will do better in the future …
Adriana Nițu
Translated by Zenovia Popa, Andreea Velicu
MA students, MTTLC, Bucharest University