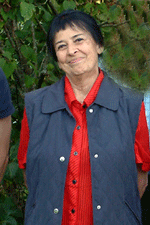 Cornelia Bronzetti - 50 years on stage
Monday, 14 June 2010 , ora 12.02

'I remember that I came in your country during the oppression and I realized that there was solidarity between the composers and the public, and that the halls were full. Now, I have the impression that the contemporary music is no longer an interesting subject for anyone. This saddens me.' This is what pianist Bernard Cavanna said on an interview given for Radio Romania Music.
Her opinion was confirmed on Sunday June 13th 2010, at the Romanian Athenaeum, at Cornelia Bonzetti's anniversary recital, where the room was occupied 25% of its capacity. It seems that the contemporary music programme, along with the heat, kept the music lovers away from a concert that proved to be extraordinary. Nevertheless, I forgot soon about the heat and about any other disturbing fact, as soon as I heard the first sound of the violin. She took the fancy of me by her profound color, vitality and infallible technique.
Celebrating 50 years of carrier, Cornelia Bronzetti chose a contemporary repertoire: Remus Manoleanu - The Sonata-Poem In memoriam by George Enescu, Dan Dediu - Choral Vorspiele des Schreiseins for violin and organ, Carmen Petra Basacopol - Legend for violin and organ and Trio for violin, viola and cello, Maria Ciobanu - Jurnal 99 for violin and electronics and at the end, George Enescu - Sonata Torso. Besides the celebrated violinist, organist Dan Racoveanu , pianist Cipriana Gavrișu, violist Marin Cazacu and cellist Movileanu Marian attended also.
It was indeed a challenge that Cornelia Bronzetti faced successfully. Actually, it was expectedly from an internationally recognized violinist, who has been applauded on all the big European stages and who dedicated herself to a pedagogical career - issues highlighted also by Professor Dr. Grigore Constantinescu in a speech that preceded the recital.
Therefore, the violinist introduced us a world of contrasts and of sudden crossings from a barley felt anguish to a stirring anxiety. These elements were felt in Dan Dediu's works, where in the violin's tortuous sound or sometimes in a piano barley heard, turned out the tense chords of the organ. The Trio by Carmen Petra Bascacopol seemed also very expressive, whish showed me that contemporary music can be well understood when interpreted at a high level.
Cornelia Bronzetti who celebrated Sunday evening at the Athenaeum her fifty-year career, did not disappoint the public, and finally, at its insistence, gave an encore: The Ballad of George Enescu.
Petra Gherasim
Translated by Loredana Matei
MA student, MTTLC, Bucharest University