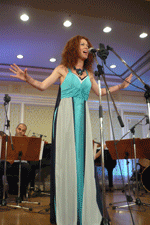 Tuesday Evening Season
Wednesday, 16 June 2010 , ora 11.27

It is extremely enjoyable to know that the young musicians are always preoccupied with surprising us with beautiful things... This took place on the evening of June 15
th
2010 - a concert called Musiquarium, at the Small
Hall of the Romanian Atheneum. A concert full of jazz 'flavours' mixed with Brazilian and Argentinian rhythms, interpreted by The Klasikvm Quartet, composed of: Cătălin Oprițoiu - flute, Gabriel Gheorghe - violin, Monica Goicea - fiddle and Alexandru Duțulescu - cello. The performers were: Alexandru Burcă - piano, Dan Teodorescu - percussion, Irina Sârbu - voice, Mihaela Teodorescu - voice and as a special guest we had the pleasure of listening to Jennifer Crestol - voice.
The programme was composed of works by Cole Porter, Duke Ellington, George Gershwin, Pat Boone, Antonio Carlos Jobim, Carlos Gardel, Bert Ligon and Robert Longfield.
The pleasant and relaxed atmosphere was partially due to Irina Sârbu's relaxed presentation and to the alternation of the orchestra pieces with those performed by soloists, works that were carefully selected. The special guest Jennifer Crestol is not for the first time in Romania; she had sung in front of the Romanian audience before in concerts performed with the Damian Drăghici band.
The American singer and actress, born in Los Angeles, currently lives in London and she had worked througout her career with cu David Foster, Humberto Gatica, Richard Bona, Haydn Bendall, Richard Page, Richard Marx, Walter Afanasieff, The London Symphony Orchestra and many others. The indisputable qualities of her voice had given her the name 'Voice of an Angel' and made her one of the most appreciated artists in the world.
Irina Sârbu and Mihaela Teodorescu, two individual personalities in the Romanian music, have proven that the joy of making music is infectious. The Klasikvm Quartet and its guests have offered the audience at the the Small Hall of the Romanian Atheneum a very enjoyable evening that was thoroughly appreciated with long rounds of loud applause…
Adriana Nițu
Translated by Țone Monica Cristina, Andreea Velicu
MA students, MTTLC, Bucharest University