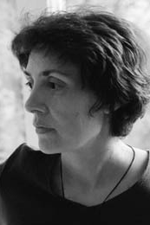 A first audition of composer Dana Probst at the Off-Theater, Vienna
Thursday, 17 June 2010 , ora 9.40

Dana Probst lives in Vienna since 1993, where the destiny carried her from Bucharest. Years ago, I have met Dana there, when she was a lecturer at the folklore department within the Academy of Music, bearing at that time her father's name, Teodorescu. The occasion on which I have written these lines is the interpretation in first audition-on June 14th 2010- of the musical piece In Place of Light written in April, this year, and dedicated in memory of the composer's father. This work was performed within a new evening season at the Off-Theater in Vienna, and the performing included the presence of the piano player Kaouri Nischii, as well as the bass player Lukas Haselböck.
Dana Probst lives and writes music with an admiring self-perseverance. The musical piece I have heard made me think of chimes, of monasterial walls, of wide spaces with narrow passages. I have got the feeling that Dana Probst is carving out a personal path in music, within which she makes echoes vibrate from worlds which are related acoustically in a subtle and - at the same time - concrete way to the Romanian village world. For this world she finds a set of composing methods from the avant-garde vocabulary-for example, methods which are austere through their modern characteristics, but also through the meticulosity of the writing. The composer speaks with brevity, with an involuntary refinement perhaps… but how else can be called, by means of just one word, the discretion and the prudence with which she measures the sounds?

These are some of the words with which Dana Probst presents her musical piece of work:
"At first, like a very discrete presence, like the shadow of a piano's chords, the voice's thread sees the light little by little from a repeated sharp C, it gets a shape, so that only in the end it may fully manifest itself. The vocals and the phonemes uttered during the first part of the musical piece are undertaken from a Hebrew psalm- but what we have paid attention to, was the colouring and not the meaning of the text".

Such type of first auditions can not only be «auditions», but soul experiences for the listener.
Haiganuș Preda-Schimek
Translated by Neculai Cristina, Andreea Velicu
MA Students, MTTLC, Bucharest University